another post of
SUPER
SIMPLE
CARDS
we have cards on the brain here at our home. my kids are making loads of cards and other art masterpieces to raise money for the Stollery Children's Hospital. you may remember
this post
from last year. they are at it again. i am soooo proud of my kids.
they are more independent with the activity this year, but i still can't be too far away while they are busy. so i started to do some of my own cards while they work. they are very simple and i thought i'd share this idea with you today.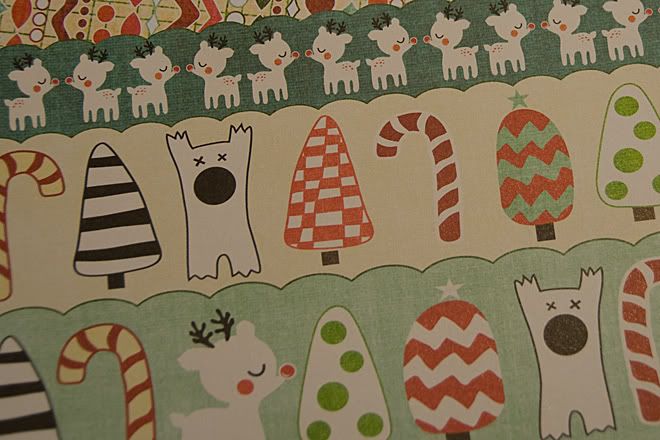 this is some patterned paper from Sassafrass Lass. it's last years' paper, but i hadn't had a chance to use it yet.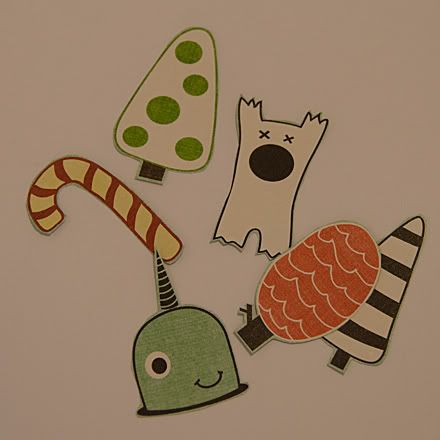 with some detail scissors, i cut around the various pictures. this is also a great activity to do while you watch television.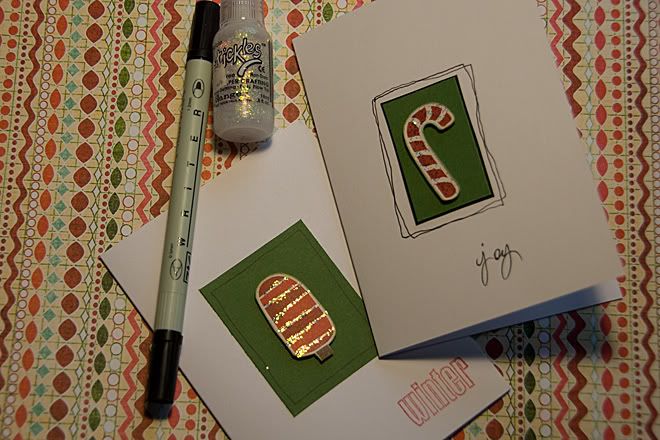 some plain white paper became the card bases. a tiny rectangle cut out of contrasting cardstock. a fine tip black marker. add a pop dot to the back of the teeny pictures and voila! of course some bling is always fun and stickles is always ready to help me out.
Making Memories
has
this paper
in the stores right now. those trees would be awesome against some kraft paper using the same technique.
My Mind's Eye
has
this paper
too. the snowmen are adorable! i'm using them in another card project right now that i will share later this week.
here is the HOW-TO:
this style of card is pretty common. it is also super simple. very often each sheet of patterned cardstock has about 30 pictures or shapes that can be easily cut out. yes, that is 30 cards from one sheet of paper that will cost you a grand total of $1.25 (approximately!). the plain white cardstock is easy to come by in bulk or 35cents a sheet that will make 2 cards. get 2 or 3 different colours of coloured cardstock to coordinate with your patterned paper. that could cost anywhere from 35 to 75 cents. yes, if you are doing the math, one card will cost you 30cents. seriously. at this point you can afford to buy yourself 3 more items:
ONE: 1 awesome black fine tip marker (i have a zig writer....it has 2 tip sizes in the one pen....did i mention that it still works awesome after nearly 15 years? American Crafts also sells some great ones....get the SlickWriter in fine tip...trust me!) expect to spend $4 CDN.
TWO: pop dots. some people use foam pieces and glue both sides with a glue stick. it works. but once you use pop dots, there is no going back! you can get foam tape from the dollar store. it is super sticky, and not as convenient as the pop dots....but it is definitely economical. i won't bore you with how many cards that $1 will get you!
THREE: any kind of glitter glue. even if it is from the kids section at the local craft store. however, stickles is great because it has a fine tip that doesn't easily clog and you can get the glitter in a fine area. it costs just over $4.
so, are you doing the math? total cost is about $17 for 30 cards. where are you going to find a deal like that?
for the greeting...that fine tip marker will be great. the stamp in the photo cost me $1.50 in the cheap bin at the craft store. you can get an okay ink pad for the same cost. if you are interested in stamping but aren't wanting to commit, Stampin'Up! has these little "stamping spots" where you get 9 coordinating colours for a low price. another option is to use your computer. type out the greeting in a fun or plain font, print it out in whatever colour, cut it out and paste it onto the card. whatever you choose, the cost will still be less than a dollar per card, as low as 50 cents per card. consider the new pen, pop dots, glue glitter, stamp and new ink pad a gift to congratulate yourself for your brilliance. suppose you do all that and you decide to never make another card ever again. wrap up all those little "treats" you bought for yourself and give them to someone who would love them. quite possibly a certain 3 year old will think she hit the jackpot. then again, i know a 30 something mother of two angels who would feel the same way.
the only better deal going is to NOT do cards at all. and what kind of friend does that?!
have fun!