yes, it was a very old fashioned party. as much as my kids can understand about years before their birth....i think they believe that this is how life was when I was their age!!
they made a toy. a little advanced for their ages.
then they were told that they had to help with chores. that the party host had socks that were in need of cleaning. to which one of the guests replied that he was not going to wash anybody's socks!! oh, to imagine what the boy was thinking...most likely hoping the party would soon bring out the treats so he could leave and get back to an enjoyable life?! ha!! we did assure him that he did not have to wash dirty socks if he didn't want to. even though his face showed relief, he later joined in the activity. they got to use a washboard and a bar of soap, in an old washtub. suddenly it became a glamourous job.
then came the ice cream. looking at the old maker, i think it's life span is coming to a close. salt and metal do not stand the test of time together. they enjoyed dumping the ingredients inside. adding rock salt and ice cubes. then they all got the workout of their lives turning that hand crank.
once the kids were bored of the ice cream making task, Aidan took over the cranking and the host took the kids outside for some old fashioned games.
the weather was fabulous. perfect for photos. except the old house was pretty dark.
downloading the photos later, i groaned. happy to have gotten a lot of pictures. pleased that i had some fairly decent results indoors, but wished i had done better. my groaning was because i had very little of the honoured birthday girl! very few of her face. many blurred action shots. so it was a lesson learned.
i had not scrapbooked any of the photos until i saw the October Afternoon, Farmhouse collection.
it is not birthday themed. however it had lots of old-fashioned ephemeral stickers and papers that were the perfect accents for the party. they definitely made my photos look much better!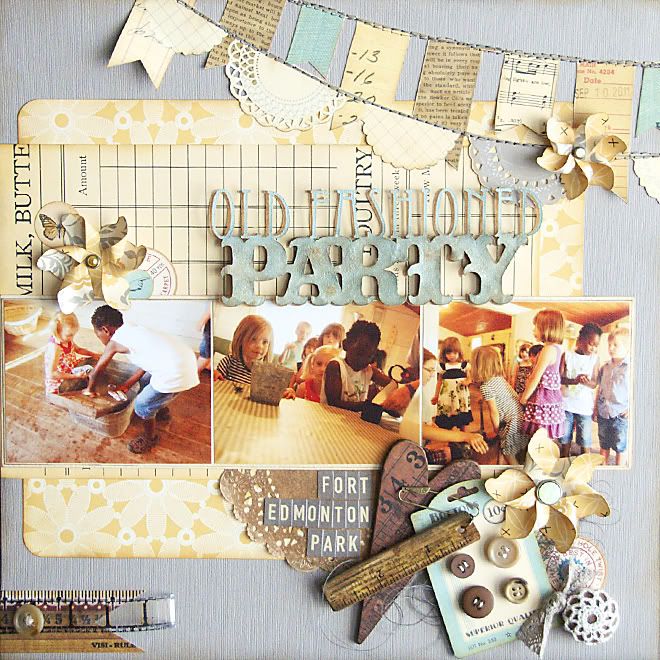 again, i followed the sketch fairly closely. this month we had to use 3 photos.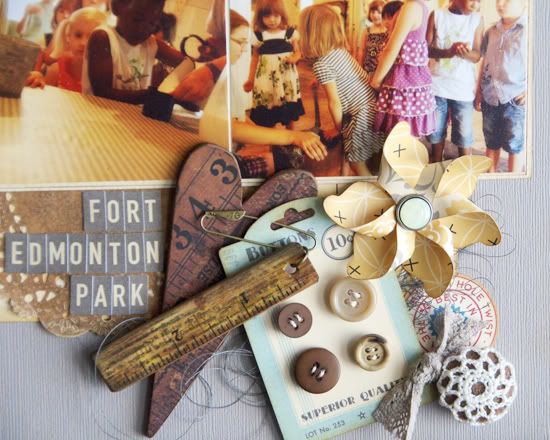 i have seen other projects where they designer added buttons to a button card. i decided that technique worked with my layout.
i also saw a layout made by
Amy Heller
where she created these lovely paper pinwheels. i loved the look, so set out making my own.
Style Me Pretty
, a wedding decorating blog, had these lovely patterns that i have admired for a while. i was just too lazy to print it out and make my own. now that i have the new Silhouette Cameo i was able to use the pattern and create my own cutting file. 3 different sized pinwheels...cut even with the hole for the brad! i love that machine. the brads were not included in the kit, but were from some My Minds' Eye packages that i have been slowly hoarding.
i added paper to the book board heart. inked the Maya Road ruler with a variety of stains and inks. added lots of loose thread to the back of it all. and my Cheery Lyn doily die cut through the Kraft Glassine like nobody's business. the waxy-ish coating on it made it so easy to pop out of the die. it is so obvious....now!
and another file i created with my Cameo. can you believe the detail in the title? not a single portion needed to be re-cut with my craft knife and all of the little paper bits stuck to the mat. there was singing coming from my craft room.
in fact, i decided that the kraft glassine paper would make an awesome shadow. after all, i had to see if the Cameo could cut it. heehee!! even with the waxy-ish surface, it stuck to the mat without any issue. cut without problems. just like the cardstock paper previously. love. that. so. much.
i also used crackle paint on the cardstock. after it was dry i added some distress inks to age it a bit. the paper also curled quite a bit. even with the dry paint i was able to bend and shape it without tearing or the paint crackling. it is difficult to tell in the photo, but i only added the cradle to "party".
i am so loving those pinwheels. i keep telling my kids that i will make some for them. they are ignoring me. don't they recognize style!?! heehee!! instead i have been cutting other little things for them. Kiara made a cute box and owl this week. i also tried out making my own design, cutting it from the silhouette vinyl and now both of the kids have some new art in their rooms. so, we are all quite happy. even if it doesn't involve cute little pinwheels. i will have to share photos. i have been good at making little projects around the house, just not good at sharing them on my blog!