just 2 more excellent reasons why i LOVE my Silhouette Cameo!
when my original plans of making card sets for a few teachers backfired, i found these adorable designs for presenting gift cards.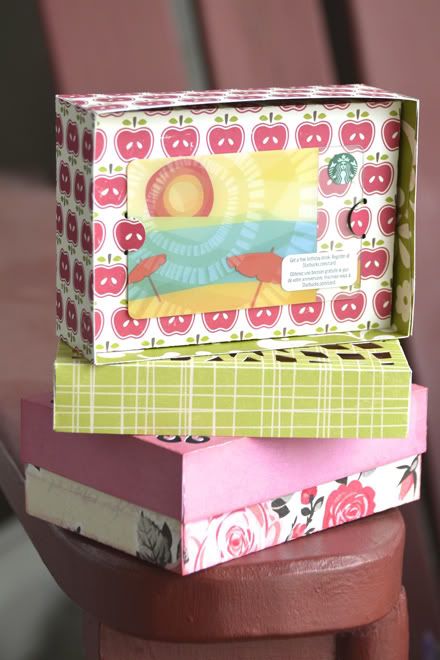 each box is actually made of 3 pieces. the insert is the part that holds the gift card in place.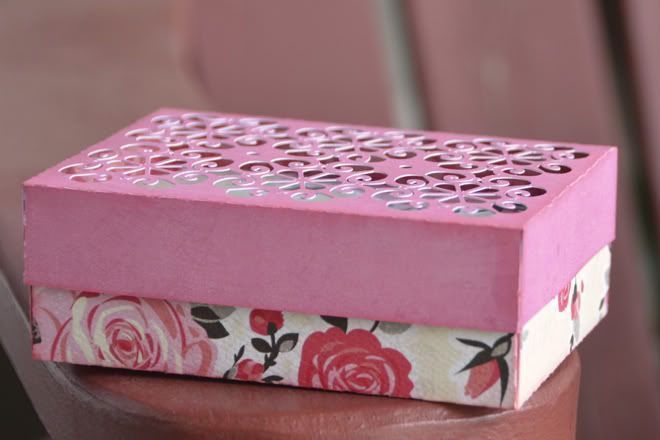 i didn't do it, but you could coordinate the gift card with the papers you choose to create the box.
i used
this design
:
Design id #29156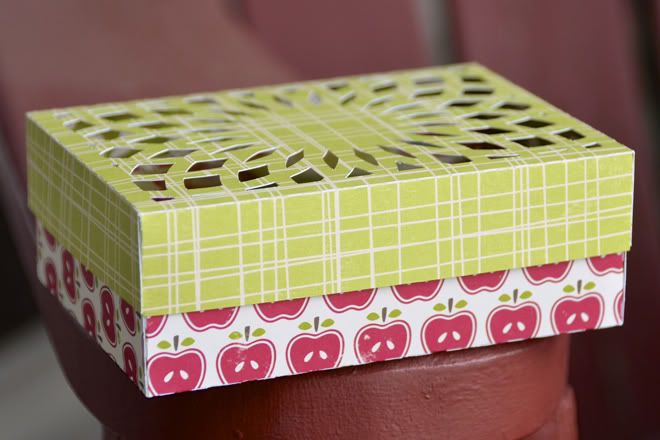 and
this design
:
Design id #29153
i didn't take a photo, but i tied some ribbon around the box to dress them up some more. very cute and quick to assemble.
i usually have my desk filled with a little home project...cards, gifts or scrapbook pages for me. if it isn't filled with a class or design team project! this past month has been very odd for me. not being able to sit and play around at my desk for over a month. it felt weird. and it was really hard to get going on my present project too. instead of scrapbooking, i ended up doing a lot of reading. i think i read about 10 books in total. i like to read, but don't usually read that much in a short period of time.
i thought about using photos about summer. they would be perfect for the paper i chose. but i thought i would go a more historic route instead. i pulled out an old photo of my grandparents on their wedding day. then i printed out a photo of the house where my grandpa was born. i realized that i don't have a photo of me with him. not sure if one exists or not. it's quite sad considering i lived in the same farm yard for the first 8 years of my life. however i do recall my grandma saying that he hated having his photo taken. no doubt there are few photos of him. then i got on the internet! i had a lot of help from a neighbour using some ancestry sites and managed to find my grandpa's birth certificate as well.
using the information i knew i put it into the layout.
now i am on the hunt for more photos and more information. i think it would be really neat to have a mini album on my grandparents. i was surprised to see how much information was available on ancestry.ca. other family historians can also add photos or personal recollections. factual information is nice, but it doesn't tell the whole story.
i did learn that they lied on the Canada Census in 1916. our family is most definitely descended from German heritage. they claimed to be English. i'm glad i was with my neighbour when i learned this....i was confused why they would lie about that. then she reminded me about the war with Germany. many settlers did the same thing. this is one of those facts that more than likely was not discussed at the supper table, nor passed on to later generations.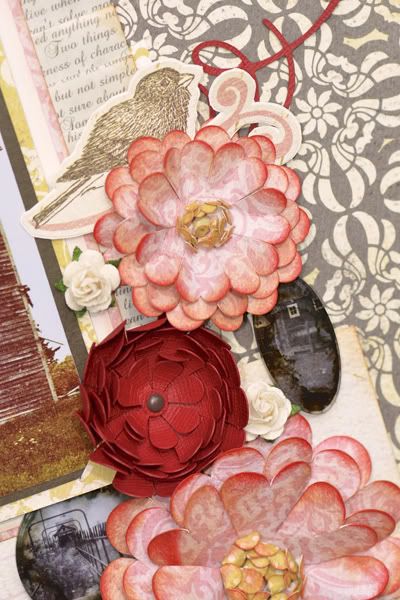 this is just a sneak peak for the July layout. i'll post the full photos later this week.
these flowers are simple to assemble, Cameo cut patterns. the fragment technique will be a lot of fun. another technique that allows for mistakes without compromising an entire project.
i'm hoping it is a more simple layout to assemble this month. i thought i had achieved that last month...but nope! i really do enjoy little finicky bits of paper accents. i am so inspired by the stencils, moulding paste, gesso and inks that i'm seeing out there right now. i have not had a chance to play around with them, and hope to do that soon enough. for now i just gaze with my mouth gaping open at the incredible pages and techniques!