and here we are. August ended and September has arrived. a few of the trees down by the river have already started to change colour and fall. ours are still green and lovely near our home, but a few of the trees and plants have started to show signs of the changing seasons.
autumn is truly a very pretty season. some of my favourite photos are taken with the lovely golden hues in the background...or as the main subject!
there are other changes happening this year. both of our kids are now in school. all day. every day.
it will make school holidays that much more special. i'm excited to see them growing up. and sad at the same time! there is no doubt that my eyes will be a bit damp tomorrow morning.
i think i mentioned a few months ago that Aidan was working on a timeline project for school. he had to create a poster documenting his life. he had more than enough photos to pick from. ha! but it was interesting to see his growth on a sheet of posterboard.
i decided to do a mini version for Kiara. kind of a then and now layout.
the baby photo was taken when she was 8 months old. i was actually taking a class designed by Pat....a mini shadowbox. and i needed a photo! as soon as Kiara had napped, she was fed, then changed. while she was still happy, we went outside for the photo shoot. that shadowbox is still on display and i love it now just as much as i did when i first saw it.
the princess photo was taken specifically for this layout. kind of appropriate since i was comparing her baby photo to her present self. both photo shoots taken specifically for a store project.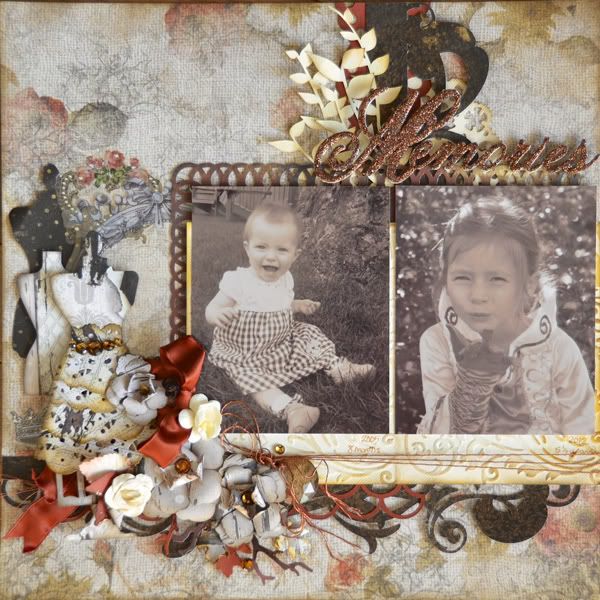 i loved this paper kit. i felt that it made me step out of my comfort zone a bit and stretch me. i like that! i used my Cameo and Vagabond quite a bit too!
i covered my title in glossy accents, then sprinkled on some copper glitter.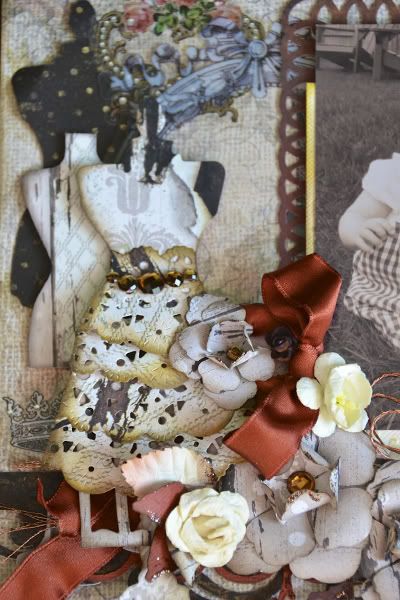 Lynette's sketch had a dress-form in a corner. i cut out two with my vagabond. the smaller form was included in our kit. i added a dress to one of them by die cutting a doily. then i trimmed the outer edge of the doily, cut it down to create the skirt layers.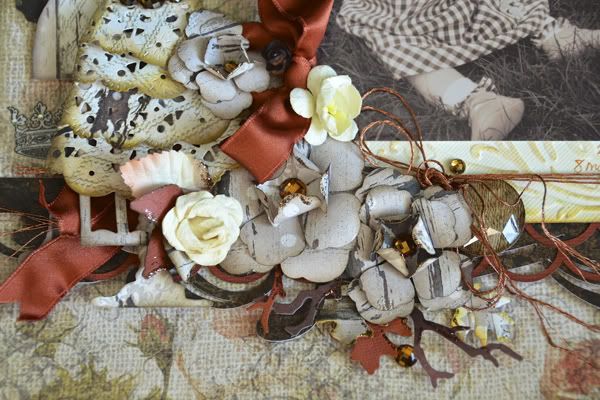 then finished with lots of layers! flowers, branches, leaves, gems....
i loved the metallic twine. i took it apart and then tied it. i love that it looks like wire.
what will you do with your kit?