i had to convince my family to take advantage of a snowy day to do a family portrait. it was a really bright day. and i was tired! i tried to think of what i had learned in my Ambient Light workshop in the spring. i didn't get the "rembrandt" look….but at least we don't have bad racoon eyes or harsh shadows. phew!!
i was so happy to use this on a scrapbook layout right away!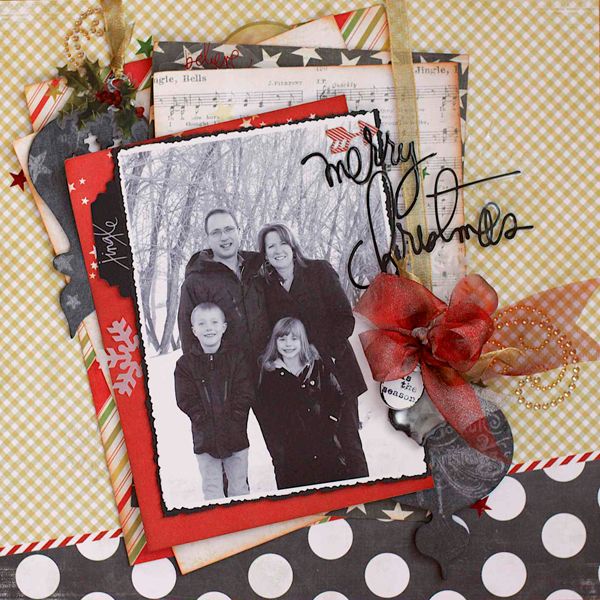 these papers are so pretty. i was wishing that i had more photos at Christmas. maybe play off the polka dots with photos in the shape of circles….adding that to my "scrapbook-bucket-list".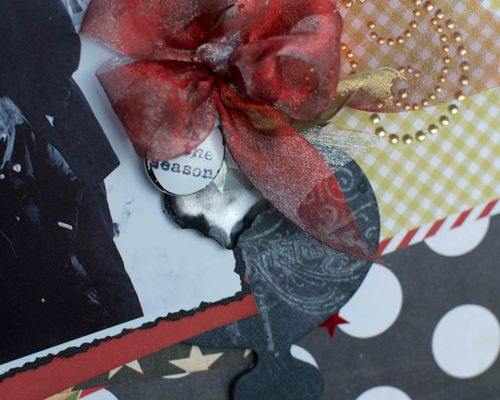 i tried a few new techniques here. i LOVED the
chalkboard technique
that Tim Holtz shared in the Online Chemistry Class last month. so i tried it out on the ornaments.
our last shopping trip to Restoration Hardware had some cool ornaments that had the "mercury glass" look. they looked a lot like the Maya Road trinket that was included in the kit. i first painted it in Brushed Pewter Distress Paint. after it was dry, i dabbed at it with a scrunched baby wipe to remove some of the paint. then i painted the rest in Black Acrylic Paint. it is difficult to get a good photo of it. but i was happy with how it worked out.
i stamped "tis the season" using black Archival Ink. this was actually part of a more detailed stamp. i had to mask off parts of the stamp so that i only got the words i wanted. it looks simple, but took a bit longer to achieve.
and that red/silver ribbon. PURE GORGEOUSNESS!!! i'm planning to buy a few yards of that pretty stuff. it will look perfect in my wreath and a few other places in my house. i would wrap presents with it too….but i kind of want to keep it for myself! ha!!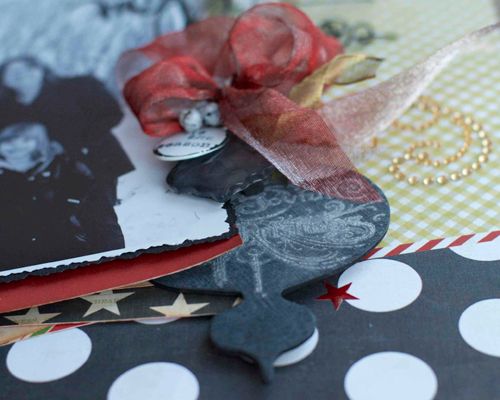 here is a side view of the cluster.
if you haven't already done so….
check out the other projects from the rest of the Design Team
. oh. my. goodness!!