another superb kit this month at the
Urban Scrapbook
!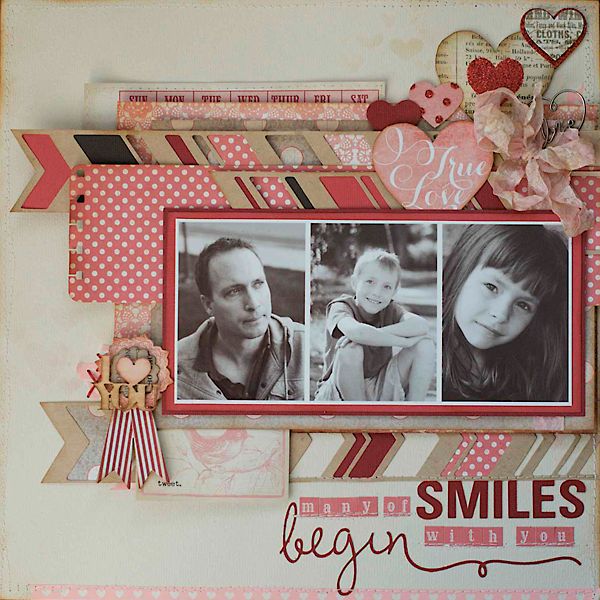 the selection of Valentine themed papers this year are amazing. i probably said that last year too. i think this year is even better! choices of soft pinks and perfect reds. you can also pair it with a kraft paper or chalkboard looking paper. definitely some papers and embellishments worth hoarding and using for a few years!! you can't see it here, but i coloured over the "SMILES" and "begin" with a red
Wink of Stella glitter pen
. if you have not tried these pens, they are a new must have. the way a ray of sunshine captures the sparkle is incredible. they aren't messy, if this is an issue.
these are my 3 most favourite people in the world and my favourite pictures of them from last year.
i layered paper under a few spots of the chevron lace paper.
one of the papers had a variety of hearts over the entire background. typical me i fell in love with it and waited to use it for a special part of the layout....set it aside so it wouldn't get messed with by accident....then found it again at the end of my design session. how many times must i make this mistake!?! despite my senility, i think it worked out okay in the end.
i absolutely love adding colour to seam binding. this time i used Spun Sugar and Antique Linen. it turned out better than i had hoped. i wanted it to be soft and aged looking, like the kraft/pink combination. and how cute is that Maya Road "love" heart?! someone must know someone who needs to make some wedding invitations.....these would be so perfect for the trendy cards being sent these days.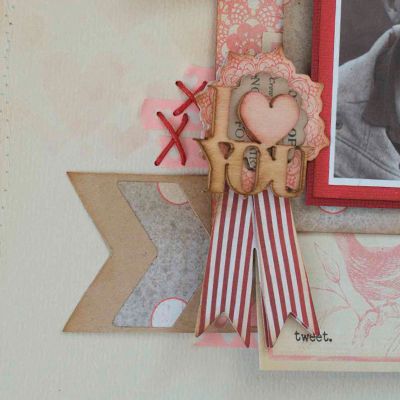 the challenge for this month was to use stitching. my sewing machine and i spent a lot of time sewing around various pieces. then it went around the entire background page. since i had never done this technique yet, but always wanted to....i sewed over my title. those letter stickers are STICKY, so there was no need to ensure they stay in place....however it looks cute and homemade, like the rest of the embellishments. i also made a few "x's" with the red twine.
have you checked out the other layouts on the
blog
yet? they are amazing. as always they look even better in person.
well, i'm thankful for a blue sky and sunshine today. however this ridiculously cold air is not so exciting. the snow is no longer sparkly white and everyone in my house is tired of mittens and snow pants!! i think we are less than 90 days away from camping season... a big number, but we are already counting down.