Monday again!
last week flew by. it was a busy one for me. lots of projects literally on the table needing to be done. and my birthday right smack dab in the middle of it all! yup. it just added to the fun.
with several projects needing to be done and so many beautiful products surrounding me...my creative gears were churning and churning. at least something was moving. i kept thinking of ideas and possibilities. not wanting to cut into paper until my mind started to slow down. it's a nice problem to have, but you just don't get much accomplished in the meantime.
the night of my birthday i sat down to relax my brain and use my own papers kind of as a warm up. that helps. sometimes i create cards to get that same effect. it's sort of like doodling before an artist starts the actual picture. at least that is what i tell myself! so i used that layout sort of as a practice for some ideas that i was tossing around in my brain. i felt safe trying it on a layout i didn't have to show off if the experiments bombed. ever feel that way? this month the pressure was just a bit intense.
i would also like to know why i am most happy with the projects i finish at 1:00 am.
i finished my very first layout for the design team at the store. the kit was absolutely amazing. i still don't think i did it justice. i like some parts of it, but it was just tough to get it all to work. i have another idea bouncing around in my head, so i'll try that tonight. i'll have a photo of it soon and you can tell me your opinion!
in the meantime, here is a sneak peak of an upcoming project for next month.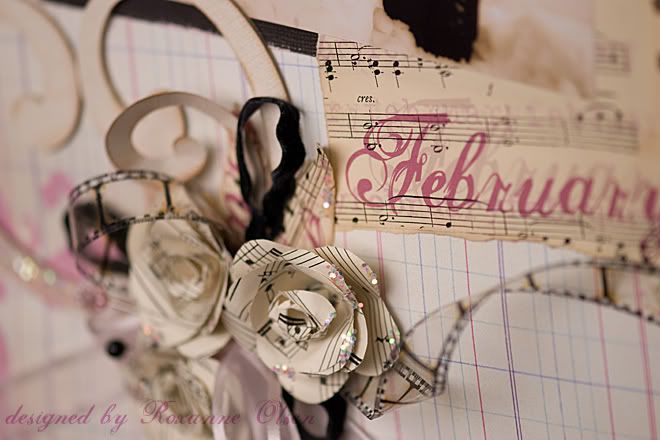 i was not sure i could get all my ideas to work out, but i was happy to see how it all fit together in the end. phew!
one thing for sure, i was really happy with how this photo turned out! no photoshopping either.
last week, the kids and i successfully found a stack of awesome vintage music. some of the sheets are so amazing that i'm thinking of scanning them so that i can use them over and over again.
right now CHA is happening in California. i plan to spend some evenings this week reviewing all the photos and products posted. Making Memories came out with a jewelry line that looks incredible. if i buy some i can totally see myself stealing it from my neck to use it on a scrapbook page! dangerous!!