what a week!
i taught the first class for the February layout last Saturday. then as the afternoon went on, i could feel a cold coming on. thinking it would be a brilliant time to test out ColdFX, i did so. it did not work. initially i thought the vitamins or whatever miracle drug they add to the recipe was actually going to help. nope! my ears hurt and my throat was not improving. i still ended up making a visit to the doctor. Aidan had been complaining of a sore ear....the same ear that he had an infection in when he was only about 7 months old. is that ironic or typical? we both left with antibiotics and hope for a quick recovery. my doctor commented on the realities of ColdFX, and the lack of faith in those pills. good thing i went for the tester pack. maybe it does work for some people, but i was not in that lucky group.
not sure if it was my cold. or the hope of spring coming. lasting effects of the ColdFX. the other night i woke up at 2am and could not get back to sleep. the entire night was one of those sleepless ones. ugh! i tried to nap during the day but couldn't, even though i could barely keep my eyes open. weird. of course it was a night that i had to work! i prayed that whatever mistakes i made due to tiredness would be small and repairable! as far as a know i think it all went well. i knew my brain was not firing on all its' cylinders when a basic question would stump me. so frustrating.
i got to work with the amazing
Heather
yesterday. it isn't wrong to have so much fun at work is it?! she is bubbly and the night goes by so fast.
then, would you believe i had another night of difficult sleep last night?
at least it is Saturday and we have 2 parents in the house! hopefully i can sneak in a nap at some point.
i made this layout awhile ago, but finally had some time to download it. or upload it? is it uploading if i take it from my computer and put it on a site. downloading if i take it off a site or off a computer to a disk? Aidan was questioning the terminology today. i never gave it a second thought before. hmmmm. perhaps just another side effect of sleepless nights?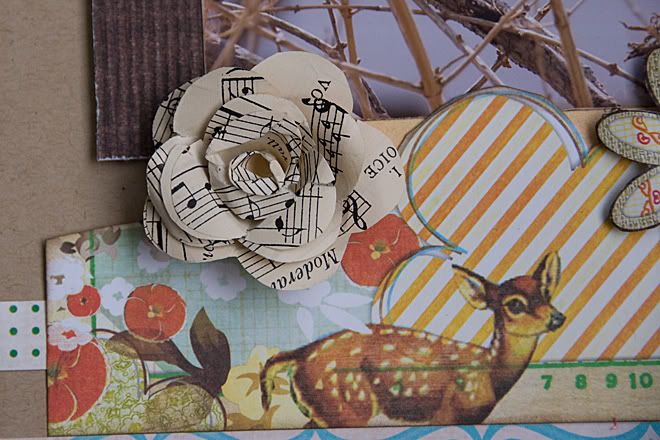 another paper rose. surprised?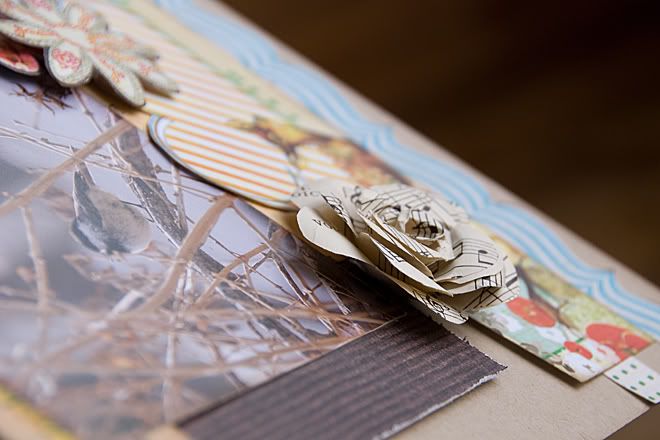 for this layout, i squished the rose down even more.
i am still addicted to making my own paper roses. i just need to find some time to experiment with more designs and more paper. i want to try different templates and layers. next time i have a "play day".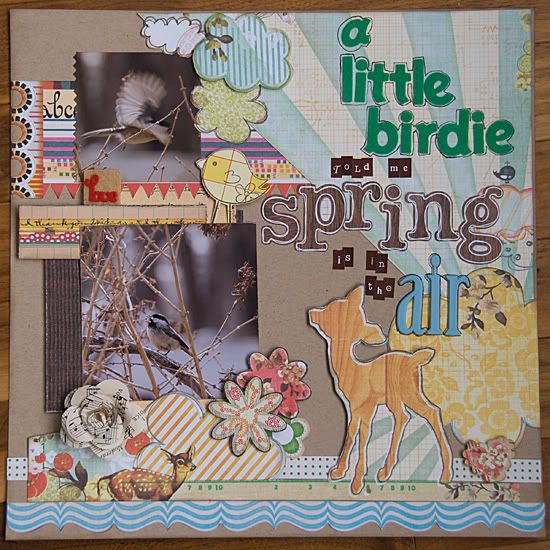 here is the layout in full.
i love Sassafrass Lass. love. but for some reason the style of the paper really stretches me. i have a hard time deciding if i should use the whole sheet as is, or cut it up. then i struggle with how to cut it up. it has been sitting on my shelf for far too long, i finally ventured into it.
aside from the design....i LOVE those photos! the leaves had not even sprouted yet. i really like the one that caught the birds' wings in motion. lucky me!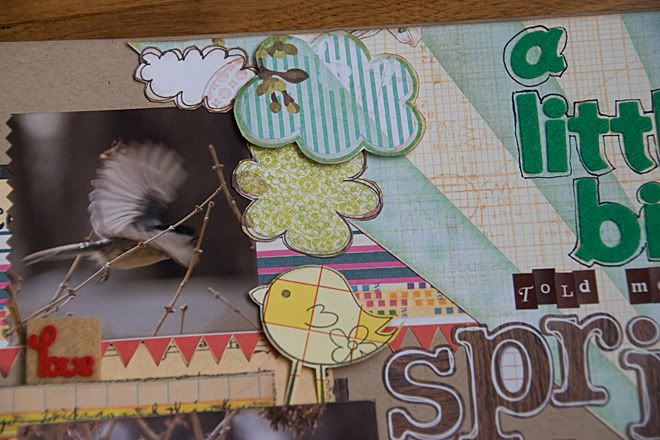 i did some cutting and layering. i even stamped this Imaginesce birdie and cut it out. i think it is my favourite part of the layout.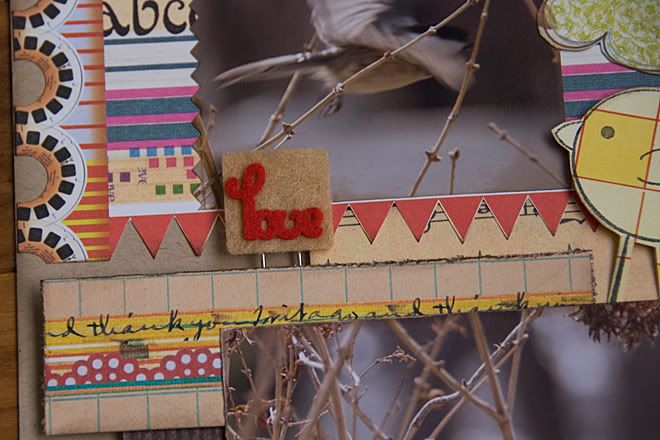 the details in their papers are amazing.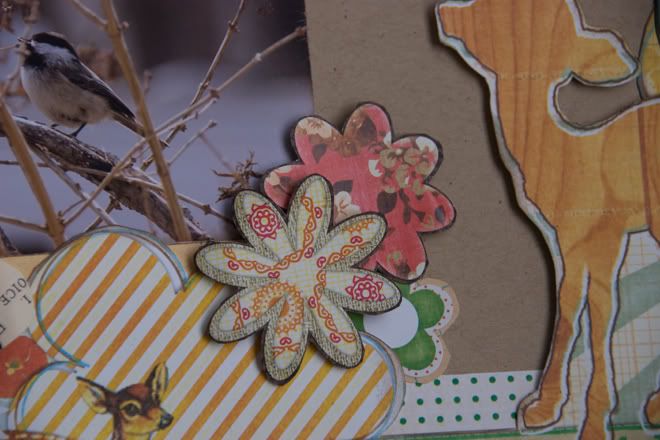 why did i take so many photos?!
so, tell me, should i keep experimenting with papers like Sassafrass Lass and stressing myself out to make them work for me? or should i stick to papers that make me comfortable and fall together more easily?
check out
their blog
for awesome projects using their stuff. dream along with me of being able to rock that paper like that!
question of the month!
soooo, aside from my stuff...
check out this album on the Maya Road Design Team blog:
Maya Road Sewing Kit
it is the cutest little mini album!
i often struggle with card ideas. these are
two simple ones
made by Danielle Flanders.
this has left me inspired! Jenni Bowlin repurposed an old book. check out her blog.
i also love her take on the garland!
enjoy your Saturday!