another layout that is different for me.
(yikes! 2 in a row!!)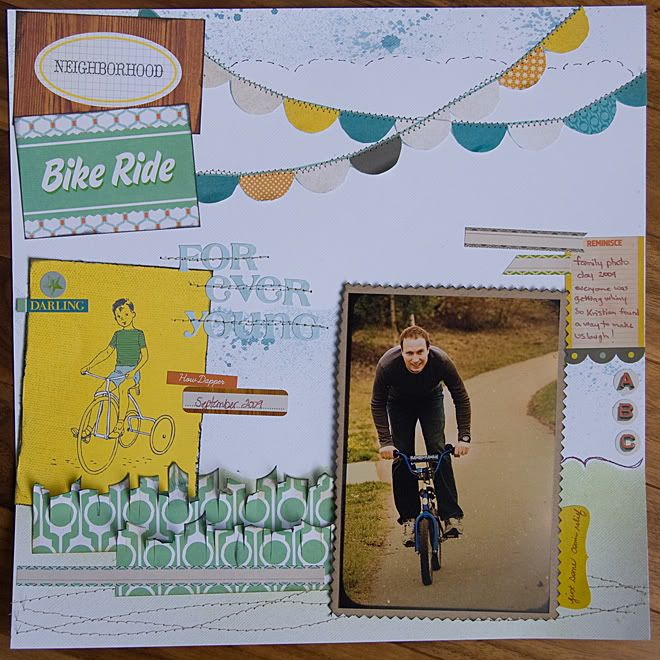 i really admire all the layouts that are shared on the
Studio Calico blog
. this layout won't be one of them! regardless, i love the photo. i wanted to emphasize the playfulness of the photo. i wanted to take a family photo, so off we went into our suburban wilderness with a bike and a stroller. i think Aidan decided he didn't want to ride his bike at some point, or maybe he was upset that he wanted to ride and we kept stopping? somehow, Kristian ended up riding it. we did get some great shots of the family. the ones i wanted. as well as the ones that a mother does not want...but are definitely truthful.
one of their challenges on the Studio Calico blog this week is to scraplift another member.
i think i will take that challenge on! haha. maybe i will learn something about using these techniques with my style?!
wish me luck!!
soon i will share the upcoming layout for my March class at the store. i often ask Kristian to share his opinion. he is honest! this one he commented on it reminding him of a fair and parties. that is all the hinting i will share for now. so far i get more excited to teach each successive layout than the one before. i think that is a good thing, but it still shows that my opinion is easily changed?!
on another note. i haven't done anything photography or PSE tips lately. but i came across
this post
today. plus there is a free action you can grab for PSE too!