the word was NEW. the products were Prima.
i had a hard time choosing which of the papers to use! i knew i wanted to cut out some butterflies. i thought about a number of design possibilities.
this layout holds the record for the most time spent on it.
i cut so much paper that my fingers were sore after. the paper is very high quality.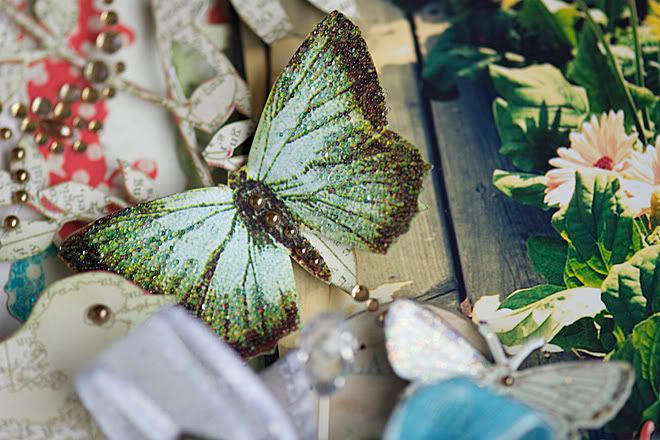 microbeads were a part of the kit. from a distance they actually made the wings look velvety. better than i had hoped.
i came across a
tutorial here on making 3D pinwheel flowers
. so easy and eye-catching. just my style.
i also covered the chipboard with vintage music paper, sanded and inked the edges. then i sewed a border in my machine.
the stickers with Prima are super sticky. wow! don't put them down until you know for sure where you want them. experience talking.
the microbeads, butterflies, music paper chipboard and bird cut out were my favourite.
i was busy prepping and teaching my classes for the March layout at Urban this week. now i have to work on the April design. for now, just experimenting and testing. thankfully it has been a fun one and actually not that complicated. or so i say at this point of the process!
i have been a little slow photographing and downloading my project photos. the past few weeks have been crazy. the kids have also been a little crazy. both of them missed some school while they recovered from this recent cold. which had also driven me slightly crazy. this week they have spring break. hopefully the sunshine and warm air will improve our moods and allow them to wear off the energy they have stored during the winter.
i am still enjoying my new imac. we are still in disbelief over the simplicity. even CS4 is making a good impression on me. however, CS5 is about to be available. that is luck!
we also switched to AppleTV. no more cable. which may also explain the kids added craziness with less freedom to watch tv. however, Kristian and i rented a movie on Friday and it was ready to watch in 30 seconds. the best part was that we sat on the couch making our choice, and didn't have to worry about returning it! never mind the zillion choices of radio and other i-tune goodies.