have you visited the new
Urban Scrapbook
store yet?
it was a lot of work to move it over, but so worth it. i heard some customers comment that it felt "more like Urban Scrapbook" in the new site. the staff have also felt the same. Pat and Lori deserve a giant pat on the back for pulling it off.
(could my elementary teaching background be more apparent in that comment?!)
i am excited to teach the first scrapbook class in the new store tonight! i have a feeling we will all be distracted as we take in the new look.
did you mark
Saturday, November 6
on your calendar?! it is the
Grand Re-Opening
. i cannot divulge any details...well, maybe i could...but i don't know if i can say.... soooo please trust me when i say that you DO NOT want to miss out. whether you stay for 10 minutes or half the day, you won't regret it. trust me.
and to personal news.....
yay!
it has been awhile since i could post something like this:
you know when a project is finished, you sit back and breath a sigh of relief?! then you start the next one.... ha! it always feels good when someone else likes what you made.
for me it was a bit scary to send off images of projects and layouts i've created. i think disappointment was the greatest fear. what if i am the one who sends off 50 projects that others have said were great, but not one magazine wants to publish even one of them?? after some really good deep breaths i answered my own question: yes. that might happen. but that is okay. at the end of the day it really only matters what my opinion is. plus it really helps that a few good friends, supportive husband and happy kids like what i pour my heart into too.
last night i was leading some preschoolers at our AWANA club. i asked them the question: "what is a promise?" a few of the kids could tell me without much prompting. then my own daughter saunters up, tells me she wants to speak into the mic....of course i am hoping whatever comes out of her mouth will be brilliant! in her sweet voice she says: "i like your layout." which meant nothing to the other kids, and very little to the other adults. (even if they had understood her words!)
anyways i am excited to have a
magazine
(Simply Handmade) want to publish it. the kids love it too. "look mom, that's me in the magazine! everyone will see me!!" and they feel like celebrities.
(in reference to the 2 other times i had layouts in Canadian Scrapbooker.)
well, i have a pile of work on my scrapping desk that is calling my name. i have to admit that i love putting snowflakes on pages just as much as i love flowers. i also just bought a snowflake stamp set that i am anxious to use. i am trying some different techniques to bring some basic heat embossing into the next class layout. the paper is gorgeous. definitely worth waiting for.
the next few photos are for some of my students. i think i will try taking some more close-ups of the flower cluster for you next week (once the layout is back at my house). hopefully i will get some adequate detail for everyone.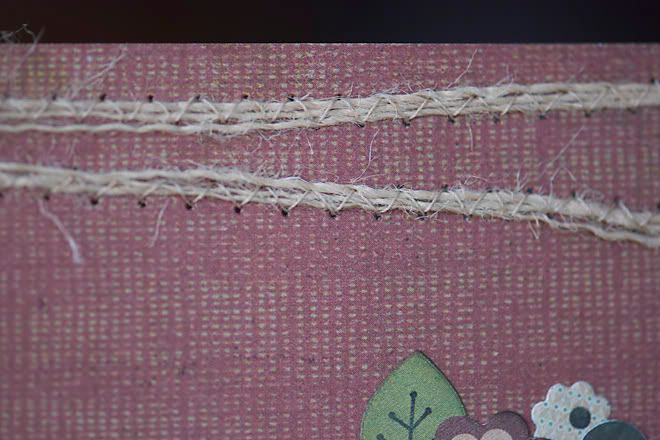 the stitching for those that didn't do it. you can try this with thin ribbon as well.
the blurred sticker was poked under my photo and then propped up with pop dots. i did not adhere it to cardstock first. the stickers are actually quite heavy and hold up well like this. if you like the look of inked edges, they are easy to do on the stickers.
this one is half hidden. poke it under the photo. the flowers are also tucked under each other too. just pick out your favourites and layer them.
i used to cut partially hidden elements so that i could use the portion that would have been hidden....but i realized that i didn't use them when i did that.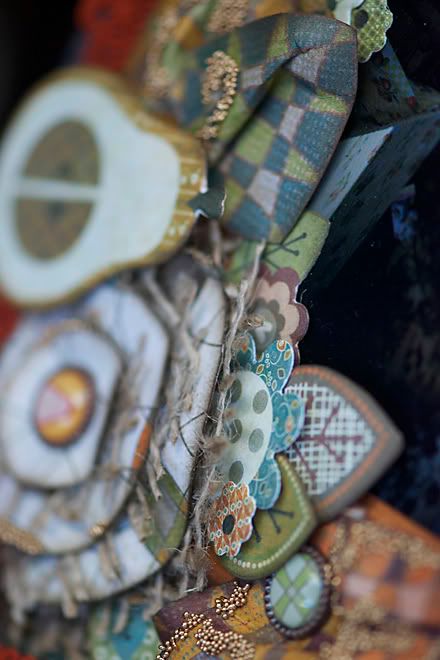 here is a kind of side view of the main page. if you want to achieve the curled look in your stickers, then apply them to the extra cardstock to get this look.
thanks again for the great year. you are an awesome group of ladies. just to let you know, i am planning to create more monthly layouts next year as well. i hope i can continue to find techniques that interest and challenge you! fun times ahead!!