it was a "surprise" to see more snow falling this morning as i walked Aidan to school. we were ALL thankful that it was not windy and fifty below Celsius for the walk. yes, i am exaggerating....but anything below -20 C just feels cold. and wrong when we have that weather in March.
not far away there is a snow storage facility. right now it looks like the perfect sledding or skiing hill. the size of it is really incredible. i asked Aidan last week how long he thought it would take the snow to melt. with a bit of pondering...he settles on his answer: "about two years, i think."
if this summer is anything like last summer....he might actually be correct. how sad is that?!!
in warmer news.....
have you checked out the
Urban Scrapbook blog
?
good luck to those who have entered! i'm anxious to find out who will be the winners. all of the entries showcase different scrapbook styles. we have some very talented customers and this just proves it!!
this is long overdue. i made this little album as a Christmas gift for my sister-in-law. i took the photos a few days after my youngest nephew was born....and then i took forever to send the photos her way. Elias was a bit of an unexpected blessing! he is now much larger and entertaining these days.
it had to have been a year ago that Jody designed a baby album class using these Teresa Collins papers. there came a point that i wished i had just purchased one of her kits. let her do all the hard work designing the pages...and then i get all the credit from the recipient of the album! ha!! but no, i took the longer route.
all the same, i love the unique covers for the album. Teresa Collins covers and pages are typically not punched. the maker of the album can choose what type of binding they want. i think it came with binder rings though. for myself i used my zutter bind-it-all. the trickiest part of the album was figuring out where the holes should be punched.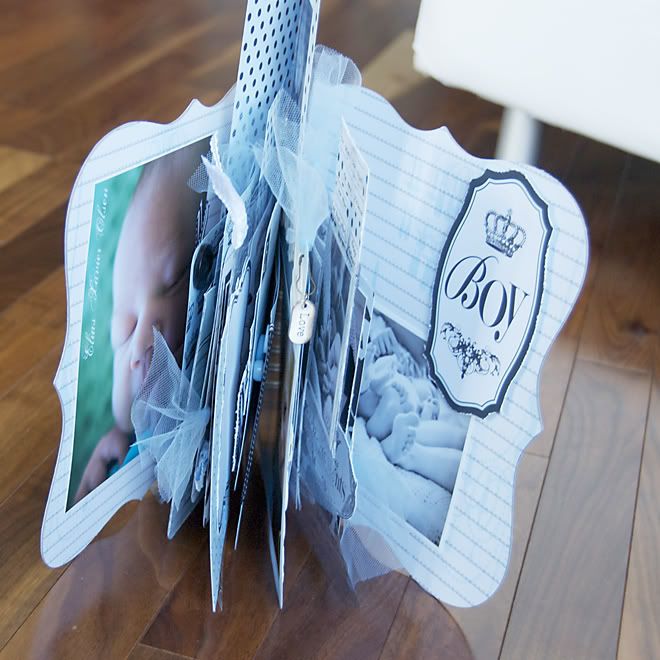 as you can see, there is a mish-mash of sizes of paper in the interior. nothing matches up perfectly! i do like how you can see partial parts of photos and titles. it seems to make the simple pages look more layered and complicated.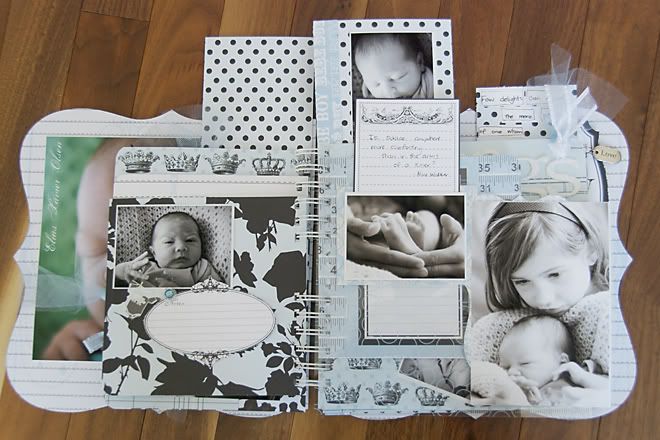 i got so many great photos of this lil' baby and his family. i think i could take photos of babies for hours and hours.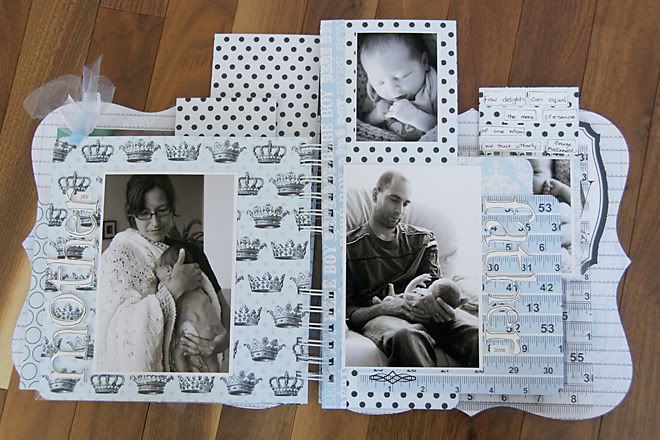 i came across some cool actions by
Willette
. the black and white action was perfect for these photos.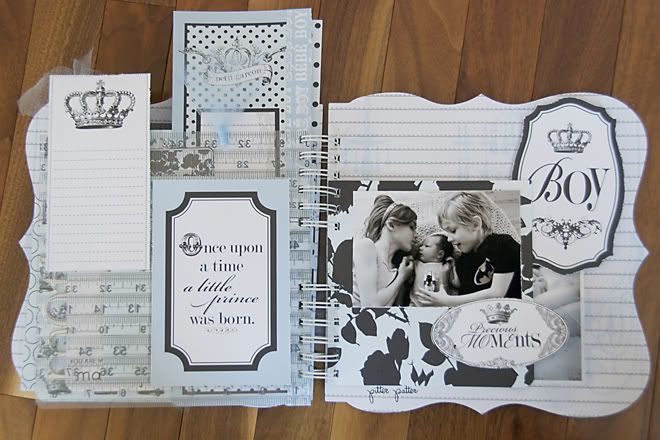 throughout the album i left A LOT of blank pages for journaling. as well as my favourite quotes to trigger some memories and thoughts.
i am counting down the days until the weekend. tomorrow is Friday!!! there is a scrapbook convention in town, hosted by the wholesaler. an entire weekend of classes and checking out the new products. i am very excited. then i nearly fainted when i learned that Tim Holtz was coming to snowy Edmonton to host a few classes too. the words "Tim Holtz", "March" and "you get to go" were the only words that stuck in my mind! see? i'm at a loss for words. we all know how little that happens!