here it is!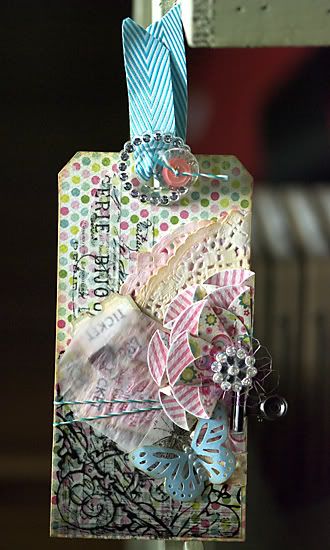 the monthly tag challenge has definitely been a challenge. not complaining, just sayin'!
this month the challenge was to create a tag of a specific colour palette. the colours were cream, baby blue, and a light and dark pink.
i used an old Prima transparency. some lovely botanical tissue tape from Tim Holtz. a white glassine envelope from Making Memories. lots of little pieces from other collections. it felt great to use this up and have it move on to be enjoyed by someone else.
when i first started to scrapbook i literally used every scrap of paper. these days i tend to save very little of the scraps. it all goes to my kids. who have no idea how lucky they are, until other "crafty" kids come to visit....and are in shock that they are "allowed" to use pretty paper.
speaking of kids....Aidan told me today that all the rain we are having is "not in the spirit of summer". i completely agree! a few days of rain is fine....but this has been ridiculous. the mosquito population was needing to be replenished i guess....