one of the newest papers from Simple Stories: Generations. it is so beautiful. it really did not need to be embellished that much...which was a challenge to figure out what technique would make this a class worth taking! ha! really. just add a photo and make great use of the pre-printed titles and borders and sticker sheet. the only difficulty you will have is deciding which paper to start with!
those roses were begging to be fussy cut. and it "needed" more roses...and more lace.... ha! i saw an opportunity and went with it. i couldn't resist.
as i played around with the papers and other embellishments i picked out i realized that tea dye would be a fun technique. why stop at just one form of "tea dye" when you can do 3? so i did.
i tried dying some twill in coffee once. it was a technique i regretted and never tried again. the ribbon had the coffee smell for months. i figured tea would gain the same result. i was wrong. now i am inspired to try coffee staining again. i came across a new method of doing it. i will let you know how that works for me!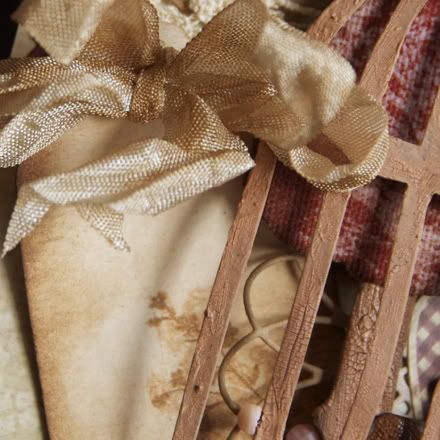 for now i am inspired to use this technique more often.
i was thrilled with how this dress form turned out for me. the fabric dress was a later addition and i am so glad i had the right colours on hand to complete it as soon as the idea struck.
can you spot all 3 tea dye techniques?
since i had the dress form, i had to have the sewing pattern tissue too.
sadly i do not have any vintage photos to use. i so wish i had! if you have any, this could be a great time to use them. even if they are just scanned and reprinted.
this past summer our family met with another family and we celebrated the 100th anniversary of the town where i went to high school. one of the many venues had a huge selection of vintage looking clothes, a fabulous backdrop and some semi-pro photographers. just before we were about to have the photos taken, we learned that the photo printer they were using had run out of ink. seriously?! they had extra boxes...thought they were full, but they were actually empty. ooops! it actually worked in our favour. i would much prefer to have a quality jpeg than a portable printed photo. the funny part is that i had just been discussing with my girlfriend how i could get the photographer to send me the jpeg file. i know!
that photo came in handy. as well as a few photos i took of my kids on a visit to the small town and farm where i grew up.
print your modern photos in a SEPIA tone for a simple fix. i did an overlay on the one 5x7 sepia photo to make it look more aged. the coloured photos were de-saturated and i "burned" the edges to create that darker halo. check out
The Coffee Shop Blog
for some easy tutorials and free downloads. Rita has one of the biggest selections for PSE and PhotoShop.
Picnik
is also another great place to adjust your photos if you do not have Adobe or other photo software. in addition to that, they are also very user friendly.