the house is filled with children's giggles, Christmas music playing in the background, paper and glitter flying around...not to mention the inky fingers. i have had my own projects on the go, but keep getting interrupted by them needing help with their crafty projects.
this is the 4th year Aidan and Kiara have been involved with a group of young kids making cards and crafts, then selling them. 100% of the money from the sale of the cards and crafts are donated to the Stollery Children's Hospital Foundation.
it has been a challenge to find time for them to work on their project this year. Kiara is in school longer now. Aidan has more work to do after school. they are still involved in their AWANA club at church and that is one evening. because i help out too, it makes it into more of an entire afternoon and evening for them. we added music to the calendar this year. just the classes keep us busy. and then there is their homework....5 happy practices! sigh.
despite other commitments, they are doing well with the cards. they really put their heart and soul into each one. it was very sweet. then i realized that they weren't really using my scrapbooking hand-me-downs! wait a minute...that can't be right!!! since i set up this new scrapbook room, they know they are allowed to take anything i put into my blue basket. they don't have to ask. they also know they are allowed to look at any other supplies in my room. if they see something they like or want to use, they have to ask me. i think i say yes at least 50% of the time. so it just seemed wrong that they were using pom-poms and scrap wrapping paper instead of the professional supplies they have access to. ha! the latest cards have been some cool combinations of die cuts using my Vagabond and things that they like. there are still pom-poms on the cards....but their are Tim Holtz snowflakes underneath them.
i'll take some photos of the items they have tomorrow and share them with you. they like it when i do that.
among other things keeping me busy, i apparently lost track of the calendar this month. the 15th is our tag exchange day. somehow that recurring day slipped my mind this month. as a result, my calendar now has my lists of things to do for each day. to prevent myself from missing any other important stuff!
as soon as the kids were in bed i sat down to get those tags done. i fiddle with my supplies when i work. move stuff around. change papers. if it can be changed or adjusted, i do it. it is just part of my process. sometimes it takes longer than other times. oh to be less perfectionistic!! sometimes a deadline is good for people like me. gets that fire going and i am easier on myself.
here it is....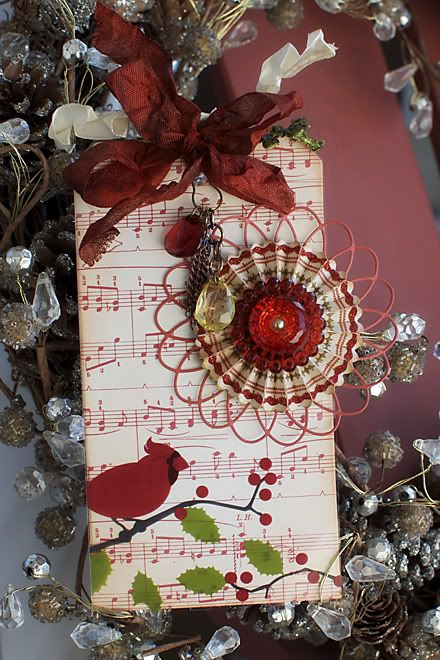 Echo Park Christmas paper from last year is the background. i inked the edges in Tea Dye distress ink.
the cardinal is at least 3 years old from Making Memories. it is printed on a transparency. the tag was matched to the size of the transparency.
the medium size rosette from Tim Holtz on this years' My Minds' Eye paper. i cut plain white paper using the Whimsy Circle die by Memory Box. then i coloured it with Fired Brick. a Making Memories buckle and a Bazzill Basics button top off the rosette.
i also hung some old Making Memories charms from the ribbon. it was at this point that i realized i really need to add unique Christmas ephemera to my stash. or maybe just more variety?
the seam binding was dyed with Fired Brick distress stain. i actually re-inked it at least 3 times to make it darker. then i spritzed it with Perfect Pearls in heirloom gold. i love the subtle sparkle. which does not show up in the photo!!
now that i am looking at the photo....i realize that i didn't add a title, or quote or something festive. hmmmm.... i'll have to see if i have anything appropriate.
now i need to make sure i have the 15th of December marked on my calendar...that number reappears every month, doesn't it?!