one item on my scrapbooking agenda last week was to create a tag for our 'tag challenge group'. i think i mentioned it earlier that Jan wanted us to create something that was inspired by the song, "Believe" in the movie The Polar Express.
i loved the 'perfect Christmas snowfall' that was illustrated in the movie. as well as the other inspiring pictures throughout. like the massive Christmas tree.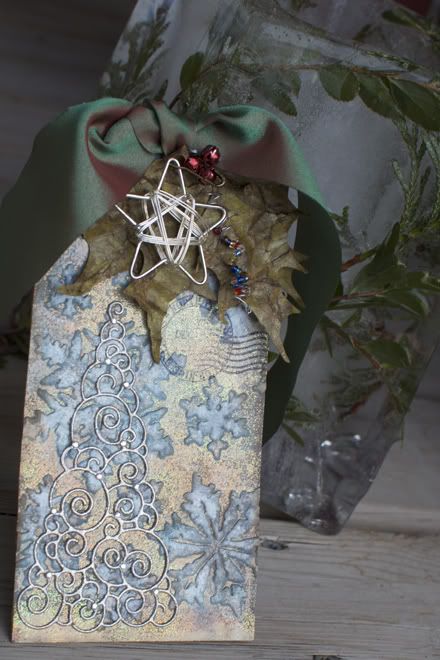 i had one idea for this tag, but changed my mind. imagine that?! in the end i used a Kraft tag and added some Distress Stain inks for colour. Picket Fence, Broken China, Weathered Wood and a bit of Vintage Photo. i made pools of the colour on my non-stick mat and swooshed the tag through the inks.
then i used the
heat embossing/dry embossing technique that Tim Holtz shared
on tag #1 this year. i put embossing ink on the non-raised edge side of the embossing folder and ran the inked tag through my Vagabond. sprinkled Enchanted Gold embossing powder over the tag. i found that the powder stuck to the snowflakes as well, so i needed to tap off the excess with my finger. then i heat embossed it.
next i added more Picket Fence distress stain to the snowflakes.
for the tree, i die cut it using one of the Memory Box dies (Winterland Tree). i also double embossed it with some twinkling pewter embossing powder i have had forever. i also added some gorgeous Zva crystals to the tree...they have an iridescent look to them.
the holly leaves were first sheets of Kraft Glassine that i inked with alcohol inks (lettuce, citrus, caramel and picket fence). when the alcohol inks were dry i crumbled the paper several times and rubbed my Vintage Photo distress ink pad over the entire thing. to finish off the colour i sealed the inks in by heating it with my heat tool. this was
another technique that Tim Holtz shared
on tag #7 this year.
i coloured some silver jingle bells to bright red and strung beads on some wire. added a star on to the vintage trinket pin. my final touch was this postal stamp from a Pink Paislee collection a few years ago. i wanted to stamp the word "believe" but discovered that i do not own a single die cut or stamp that contains that word. this worked well in the end....seeing that it has 'north pole' on the stamp too. it just goes to show that sometimes it works better when you have to make a substitution!
it is definitely a head scratcher coming up with an idea to fit the challenge. some months more than others. however it is fun to have a small area to test new techniques. so far i cannot bring myself to give away any of the tags from the challenge. they are perfect for wine bottles, when you bing a hostess gift. or on gifts. i think when i run out of space to store the lovely tags, then i will start using them. i'll be known as the "tag-lady"!!