sometimes you just have to say a simple "thanks."
i was able to create one crafty project for one of the teachers this year. i had plans for 2 more projects but wasn't able to complete them. instead my Cameo rescued me and i created some lovely gift boxes for gift cards. the most difficult part was choosing the paper. love that problem!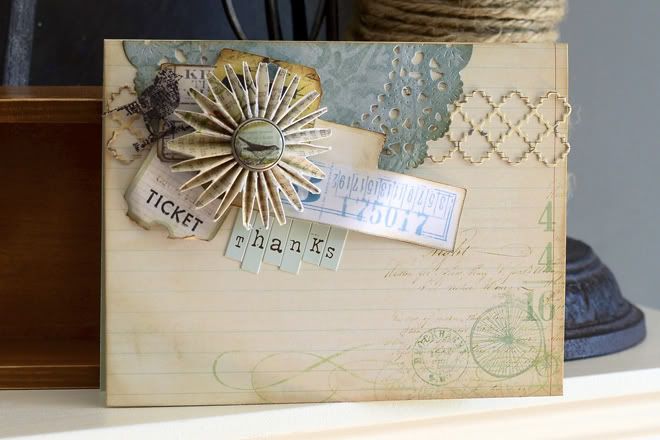 i was playing around with some scraps last month and made a few cards to give away myself. this was one.
i love the new Tessatina Border from Memory Box. i need to keep my eye out for some ribbons that would coordinate nicely with it.
the "ticket" portion is another print and cut from Cameo.
the bird behind the pinwheel was cut from shrink plastic, then stamped, then shrunk.
yes, just some scraps from other projects. it's nice to be able to use them, rather than sit around waiting to get used! and i do have a few of those too.
i'll share the teacher gift projects very soon!
for the non-scrapbooking related part of the post.....
everything was going on great. i was finishing projects ahead of schedule and preparing to get new ones started. my goal was to be all ready for my July classes by the time my kids finished school. i would have done it.....if not for this interruption.
i've had a health issue that popped up all of a sudden. fortunately and unfortunately it was something that i had dealt with almost 15 years ago. it was not a fun experience back then, and it hasn't been any more fun now. however, the fact that i have gone through this twice has been a major deal and i'm happy that there will be some steps taken in the next few months that should resolve this forever. it also helped in getting me diagnosed more quickly and i was able to alleviate the pain a lot faster. people talk about childbirth pain....this was just a few notches below that. the kind of pain you forget...until you experience it again.
i have a serious infection in my thyroid and the area around it. i thought it was improving, but then had another setback this past week. now i'm on another medication and it has been very effective in attacking the bacteria. i'm praying that it continues to do so!! it is a "bad bug" and it appears i'll be on this medication for most of the summer. whatever it takes to abolish it!! i'm a huge "germ-a-phobe" so this is driving me crazy that the biggest germ in our house is me. haha!
once my body is clear of infection, i'll be having some tests to determine exactly what is going on in my neck. then they will know what is going on. for now, most of my thyroid will definitely be removed. having Dr. written into my schedule will be common for awhile. as wonderful as they all are, i am really looking forward to not having them as part of my regular life!
for now i'm focusing on getting better. it was tough to learn to sit and relax. i've borrowed books from friends and have done a lot of reading. my energy is improving. it's easier to sit in a regular chair and move my neck. given those improvements, scrapbooking will soon be a part of my recuperation program! haha!!