i'm a bit behind in showing this one. it was for the June design team at Urban Scrapbook.
i love the Echo Park Note to Self collection. very fun and lots of vintage style designs. we had a lovely view master die cut included in the kit. as well as a challenging sketch for 6 photos. yikes!
i usually find the photos the most difficult part of the layout creation process. it was tough to find photos that fit the theme of the line....and where i had at least 6 decent poses.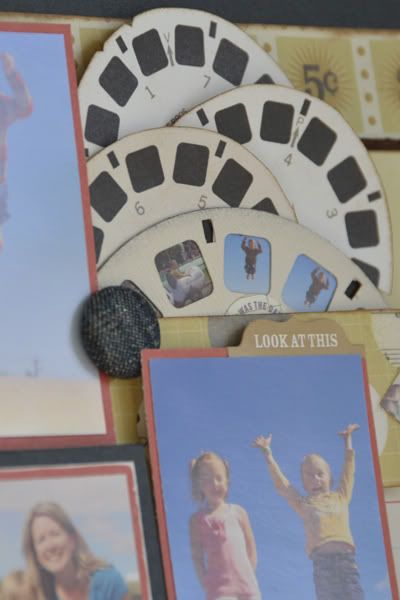 i hit the jackpot this time and managed to find more than the 6 i needed. then i thought it would be cute to add photos to the view master die cut.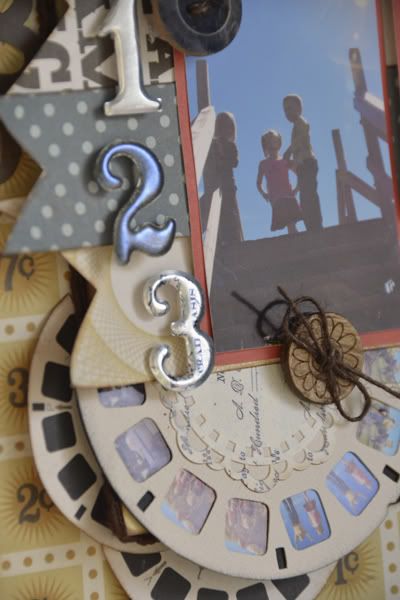 just like the vintage toy, i made sure to have 2 of each pose.
the metal numbers were fun too. to get the metallic blue (the 2) i used an embossing powder by Lindy's Stamp Gang. a really amazing fine detail embossing powder. definitely a must have if you love to emboss. a quick stamp using black archival ink on the 3 was the only change. i left the 1 in it's original state.
we also had a very wide strip of burlap ribbon. i trimmed off the stitched edges and wrapped them around my inner border. i didn't have quite enough of it, so i hid my "empty" sides with photos and embellishments. at this point i can't even remember where it was that i ran out! ha!!
the twine for the button came from one of the strings that composed the ribbon. an afterthought that worked well.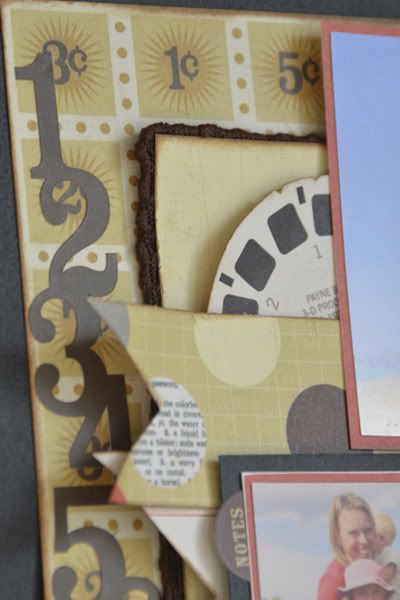 you have to look closely, but i used a lot of the stickers from the elements sheet. if you are new to layering and unsure of what kinds of embellishments to match with paper...choose a line like Echo Park that also has a coordinating sticker sheet. i cut them in halves...stick them to card stock, then trim them....raise them up with foam tape....slide them under papers....stick them over papers and photos...ink them...sand them...
i'm now working on the layout for August. trying to stay ahead of the wave that is heading our direction with school starting.