it's quite late, but i was happy to finish it. Lynette has been making fabulous sketches and Jan keeps putting together fun products and giving us a challenge.
i remember going to a local beach as a kid and loving each of those trips. except when it was cloudy and rain was threatening. who does?! some of my favourite photos of our kids are from our beach trips. this last trip we went with several other families. i spent more time visiting than snapping photos. but i did get a few good ones!
i love this one with Kiara and a couple of the younger girls. there was one other girl, but i'm not sure where she was when the photo was taken. the boys were working on building the worlds largest sandcastle with the deepest moat. the girls had their own fun. it was so wet and the sand was so packed....it's amazing anything got shovelled! one of the little girls had mud all over her face...not because she wiped it...but from splashes of the dirty water as it was shovelled and dumped!! it was so cute.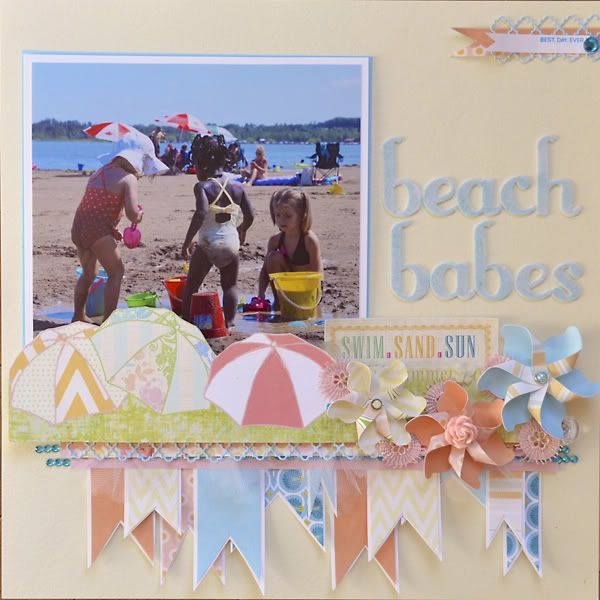 the Websters' Pages paper was perfect for this photo. we did have some other beach goodies in the kit, but i decided to stick with the beach umbrella theme.
i gave myself my own little challenge. i usually take a week to think about the items in the package. look for photos. work on different design elements. i am a very slow and far too methodical worker. this time i decided to work faster and think less. ha! less thinking did speed up the process. not a whole lot of technique on it, but i do like how it turned out.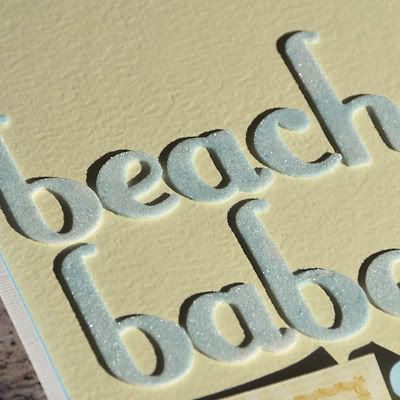 American Crafts have come up with a new twist on their Thicker letter stickers. BOTH sides are sticky!! i had some white glitter in my kit, so sprinkled that on them. then i decided more colour was in order. so i pulled out my Caribbean Blue glimmer mist from Tattered Angels. i didn't mix it well because i wanted the colour...not a mix of the sparkles. i also gave it a very light mist and blotted it afterwards. it is hard to see in the photo, but it gave it a grainy look.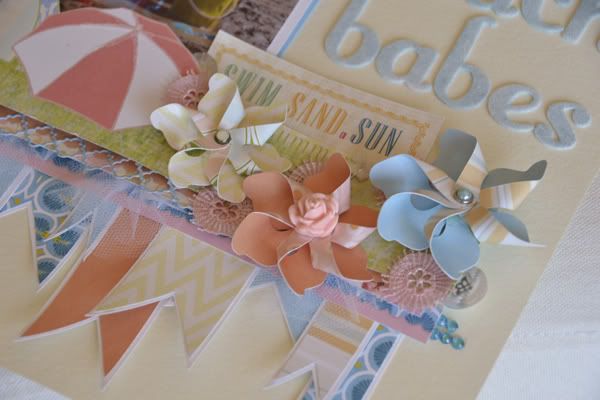 i did my most "thinking" here. i thought about sand pails....sand shovels....more beach umbrellas...then i decided the pinwheels were the most girly option. on another day i probably would have went with the other options and would have been just as happy. but pinwheels was what i was feeling.
i also did not ink a single part of any paper. shocking! instead i used the white paper to back my banners. i really liked that effect.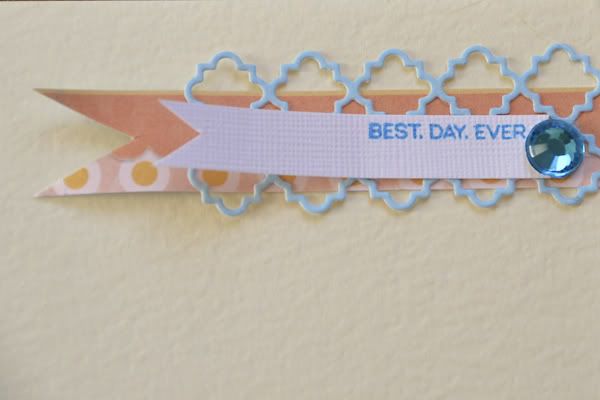 this stamp is from the Dear Lizzy multi-stamp with date. i just used the word descriptor part.
and that is it. i still have my June kit on my shelf. i'll work on that soon. i still have a few things to get caught up on, then i'll work on it for fun. i loved the colours and the patterns in the papers. i also realized that i have not shared my May layout on my blog. i'll do that next week.
hope you enjoy the long weekend. my husband and i are celebrating our 17th wedding anniversary this weekend. seriously. has it really been that long?