what a crazy week! we have had record amounts of snow falling this week. nearly 30 centimetres fell in the past few days.
i rarely make cards these days. except when i have to! which is exactly how these cards came into existence. i really like the lively colours in them. they are not very inventive, just lots of layering.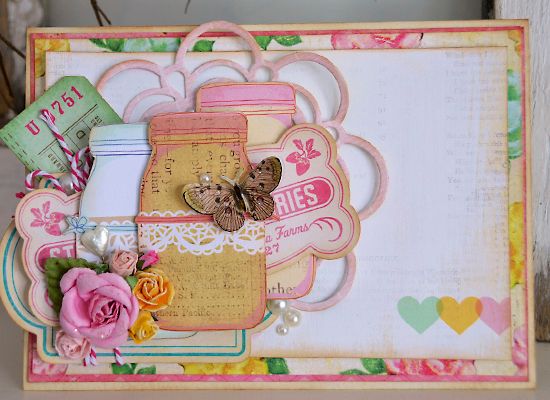 this first one is for a friend who loves pink. i tried to put as much pink on this card as i could. the jars were cut out from the latest Dear Lizzy paper. they are the cutest designs in the Lucky Charm collection. there are a few items from the Maggie Holmes line from Crate Paper as well mixed in. i was impressed with how well the colours and designs worked together.
the background for this paper is an old line of Pink Paislee's Butterfly Garden. i have hoarded the papers....but have used almost all of the embellishments. and i am not sure how i managed to succeed in doing that! the doily is die cut from some Tim Holtz tissue paper. i had some vellum butterflies left over from a class a few years ago. this one has me longing for the summer days when the roses are blooming.
so, not my most creative work. but it was very fun to do a search and find in my craft room and put things together quickly.
i've spent so much time lately playing with different products and testing techniques. sadly, all i have to show for it are bits of paper that really aren't worth any kind of display! i am seriously thinking of using an art journal. making my messes and tests inside. at the very least i can keep a decent record of my failed and successful creative experiments. oh well. at least i am learning something!