chalkboard and glitter. fun!
Happy Haunting by My Mind's Eye has them both.
i love this skeleton. i really think it stole the show in this collection.
i had a halloween countdown item that had a really ugly picture on it. but i loved the countdown idea. it was a perfect opportunity to make it look pretty. of course we are down to 20 days until Halloween...
it was a rosette making storm in my studio! i hadn't made these in a long time, and suddenly i used them on both of my halloween projects. what are the odds?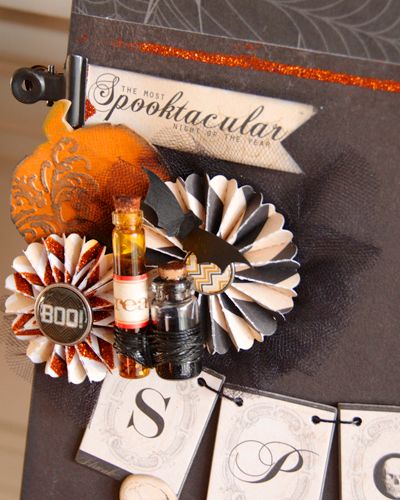 i totally love how the pumpkin turned out. i used the Flourish and Wings Texture Fade by Sizzix. although i was wishing i had the Halloween Words and Cobwebs...a spider web would have looked really amazing though. we were given the orange Core'dinations cardstock with a kraft core.
those little vials are so fun. i've filled them with sand, glitter, beads.... the yellow one is a mix of yellow re-inker, water and gold glitter. the black one is microbeads and black ink spray. i coloured the cork tops with some black and dark brown ink.
i took the shine off of my binder clip with some nearly black Inka Gold metallic rub by Viva.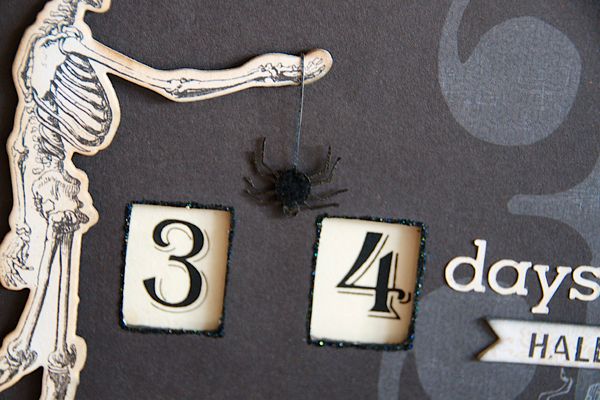 i cut out a spider with my Cameo. added silver Inka Gold metallic rub to the web. then pulled out some ancient Doodlebug crushed velvet flocking to make him furry. i think black Distress Glitter would have looked awesome.
i also cut out the words: "days until" with my cameo. i added adhesive to the letters using my Xyron Sticker Maker. that little tool has been around longer than i've been scrapbooking.....but it is awesome! no runny liquid glue distracting my layout.
i was "oooohing" and "aaaahhhhing" over the other projects the girls made at Urban Scrapbook with this kit. many of them used the
Apothecary Bottles Bigz Die
to cut out shapes for their projects. as well as a few of the other new Halloween dies and embossing folders. they are so inspiring!