i hope your Christmas was joyous and peaceful.
in our home, we were all very excited for the holiday this year. all four of us will have had an entire 2 weeks off, and we're at the halfway point today. i know we will all enjoy returning to work and school next week, but for now we are pretending that this week will be the longest ever!
we had a virus hit the kids, so that part wasn't so fun. however it does make the house a bit quieter and we are forced to slow down and take things easy. no complaints about that.
i cleared off all of my unfinished projects and got out some photos to scrapbook. it was fun to mess around on some layouts that are only for our family. this time i used the school class photos from last year.
this year i chose to use Crate Paper for the majority of their pages. vintage Crate Paper! haha!! why do we save the prettiest papers? i need to get out of that habit.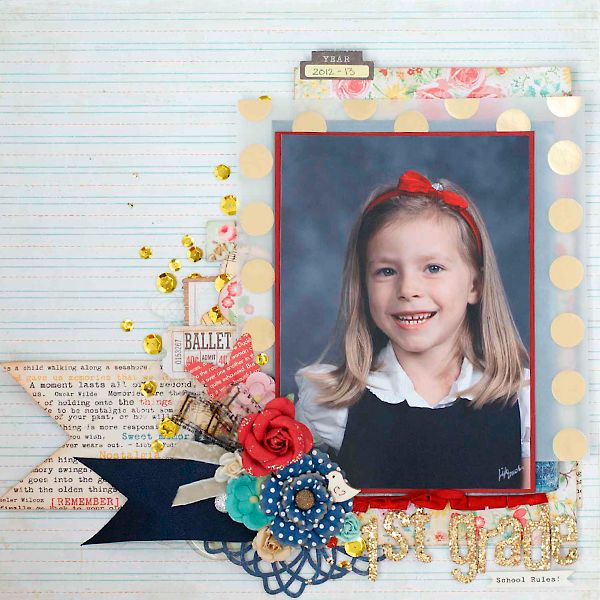 my girl loves glitter. nothing really gets measured when i put my personal pages together. i usually lay my photo onto the photo mats and trim until i like the look of the papers. often they end up crooked, or i cut off too much. or i have the "perfect" paper…but not enough to make a "proper" mat. this was what happened with the gold dot vellum for this page. this vellum had been in my scrap bin since March….loved this paper. i hope they make similar styles to this next year. i think it was one of those papers that sold out fast everywhere.
those glitter letter stickers bright! i chose loose glitter and sequins to balance them a bit.
i often have trouble getting my embellishments together for "boy" layouts. this time i chose the papers first. and got most of them cut apart for the base. then i went on a treasure hunt through my drawers, baskets and jars for anything that might work. surprisingly i ended up using most of the things i pulled out. which is not typical of me!! it is definitely easier to find a spot to glue it onto the layout rather than return it to it's storage spot in my desk. ha! Crate Paper sold 12x12 sheets of adhesive tissue paper….also known as Washi Tape. you can die cut out shapes from it, or slice off strips/squares as you use them. they look super bright on the shelf….but they are transparent when you put them against the papers. the chevron, typewriter and woodgrain strips are some of the ones i used. if you are like me and don't like to use the same paper or elements from a package more than once, then these sheets of tissue are ideal. the splatters are from a mix of re-inker, water and some perfect pearl powder. so easy to make your own and match it to your layout.
i'll share my next class layout later this week. and there is a new month for the Urban Scrapbook design kit too. January has always been my favourite kit to create with, and this one is no different!