i'm noticing a trend....i seem to be a year behind in my photos! ha!!
i'm not bothered by it, but i thought it was interesting. although we do enjoy looking back and remembering what we did exactly one year ago. i have finally picked a few of my favourite photos form 2009, so i could definitely arrange to do some printing of them. my husband chose a printer that can print great quality photos. however, i still prefer the professional (aka - Costco) printing method. although i am slow, it is a part of the process that really does not work that badly for me.
so, about a month ago i was asked to make A project for the Making Memories blog. selected from several Facebook Fans. it was a DREAM COME TRUE for me. i have been using Making Memories products since i first started putting layouts together. the very first layout of Aidan had their pewter metal letters on it. good memories. literally!
those who know me well, know that i tend to be very hard on myself. i am learning to take it easy on myself, but it is taking time. i spent several days thinking about projects. cards came to mind, but i wouldn't consider myself hugely inspirational in that department. a layout was obvious. then i decided the paper was perfect for a little mini album. i started that. then i had a cool idea for canvas, so i worked on that. finished my canvas. then i decided that i really HAD to do a layout. yes, i know. so NOT typeA!! if i was miserable about it all, i would not have been so eager. however i was having fun and i still had so much of the product left over! it is a good thing when you love the paper and such so much that you don't want to put it back on the shelf!! i think i would have kept going, but i had another deadline for another project approaching too. yes, i still have lots of goodies left for a few layouts...and maybe some cards after all.
i love the postage stamp style background paper. i tried to break up the busy-ness of it with some more solid colour matting.
the filmstrip overlay is actually done digital. yes, a hybrid layout!
just
last week i discovered that Tim Holtz
is now producing tiny frame
filmstrip acetate RIBBON
! it would have been too small for these photos....however i could have used it as well.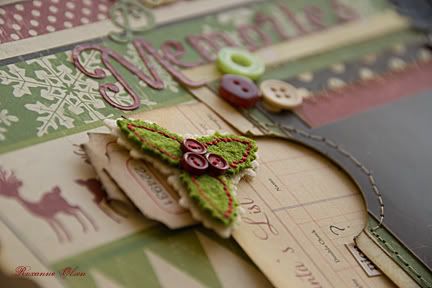 my personal favourite is hidden journaling. you can see here that i also did some sewing to help form the pocket behind my main photo.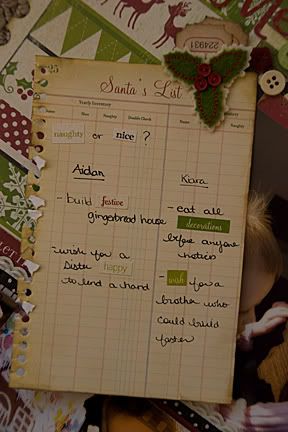 and the tag was actually a page from their journaling pages. i did a naughty or nice comparison of my kids!
Kiara was just a bit too young to do the decorating....but she had fun eating or stealing the candies as soon as Aidan added them!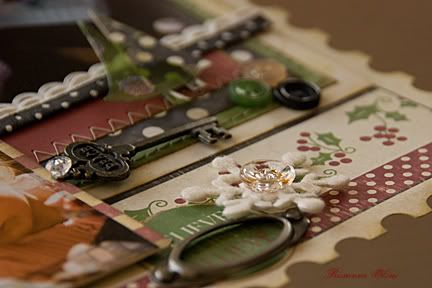 i took one of the vintage findings clear glass pins and bent it to be a hook for the key. it worked very well.
well, one more week of school. and a crazy one at that. Christmas concerts galore this week! as well as the Christmas parties. i need to do some more Christmas baking....after i go shopping for more eggs and butter. wrap the presents for the teachers and the bus drivers....mail out the Christmas cards.
fun times!!