just created this.
all the papers and such are Cosmo Cricket Earth Love.
journaling reads:
"it was tough to leave our little house. it was our first home and the only one you had ever known. we will always have the memories."
i think the little pre-made note states the heart of the layout:
Sometimes the smallest things take up the most room in your heart.
many of the journal cards related to newborns. i can totally see that this quote would be perfect on a baby layout. however...in this instance it completely stated what i felt about our little old house.
by the way, the photo on this layout was taken just minutes before we handed over the keys of the house. it was taken in front of the playhouse that was built last summer by their dad and Grandpa Olsen. even the wood frames had little drawings done by Aidan while it was being built. Aidan wanted to help so badly. Grandpa quickly cut up some wood scraps, and set Aidan to nailing them together. in the end, he had built a flowerbox. Grandpa helped Aidan hold the power drill to hang it below one of the windows.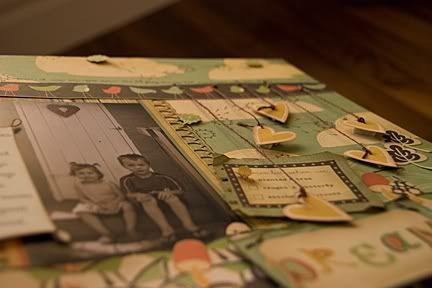 i like the birds....it was like they were helping carry our hearts during the process of moving our hearts from one home to the next.
the kids did all of these things in our old backyard. "planting the apple tree" was one of the biggest memories we have from that list. that is why i marked it as i did.
the story behind the layout is fairly serious, but i love how the CC papers brought out the happy side of the story.
in other news:
if you were a 3 year old girl....where would you put your mommy's favourite glue and bone folder?
i'm still guessing!