i can only wish!
we are sitting at nearly minus thirty Celsius this week. since Christmas, we've only had a few "warm" winter days. everyone is going a little stir crazy with this latest cold snap. thankfully they are predicting temperatures just below zero for tomorrow. if it warms up by lunchtime, then i think we'll take a break and do something outdoors. we'll leave it at a vote and go sledding or skating.
it sort of helps to move the mind ahead to spring....at least for a few minutes, while i'm sitting under a warm light and slippers on my feet!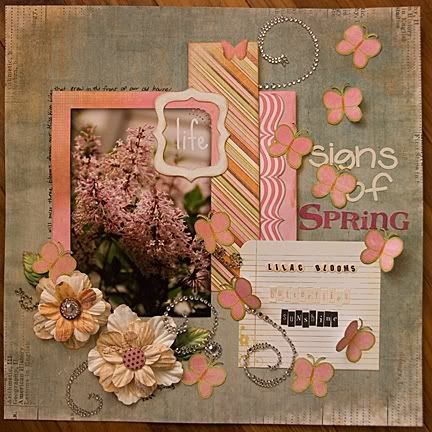 the PinkPaislee Enchanted papers. some Prima thrown in for good measure! balanced out with a die cut from MyMind'sEye. as well as some letter stickers from BasicGrey, JenniBowlin and MakingMemories.
my journaling below the title just states 3 signs of spring for me:
"lilac blooms, butterflies, sunshine"
my handwritten journaling around the photo reads:
"i will miss these blooms from our Miss Kim lilac that grew in the front of our old house"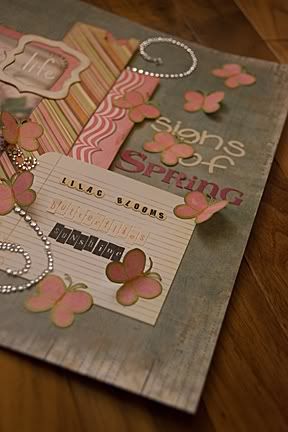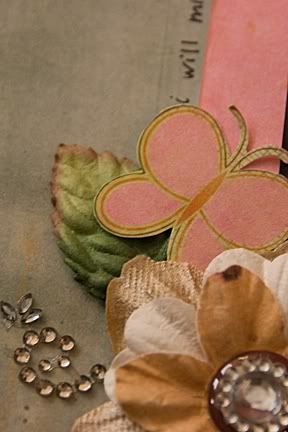 i did some experimenting with using folded packing foam under the photo mat. since we still had some lying around after our move....i figured it would be just as good as spending 15 minutes laying on the foam dots. hmmmm.....yeah. not so much. save yourself the time and use the foam dots!
i am glad that i hand cut several of the butterflies. i think they would be awesome on a little girl layout about summer. i probably have a few photos that would work with that....
this was another emotional layout too. two in a week! it is all good. i finally feel like our new house is our home now. we can look forward to phase one of our landscaping in the spring. maybe another little lilac bush will find it's way into the plan? we are excited about spring because we can start the planting of a few trees, shrubs, perennials and such that WE CHOSE. as we have learned 10 years goes by very quickly. it won't take long before this yard looks like we dreamed it could.
boy! that was a moody post. go from near tears to jumps of glee! time for some hot chocolate i think....
stay warm!