i sat down tonight to actually choose some favourites from a recent photo shoot. i often find it difficult to do immediately afterwards. i either can't decide which one i like best....or frustrated that i didn't get exactly what i was hoping to capture. silly.
i discovered for the first time a few weeks ago the number of RAW photos i can get on my present photo card. up until now, i had not fully filled it! the number is 920. i actually had to delete a few on my camera so that i could get more photos of different poses. i also follow the advice to take multiple shots...so i take 3 (at minimum) instead of 1.
i came across this one tonight. i am still in shock that i was the one who took it!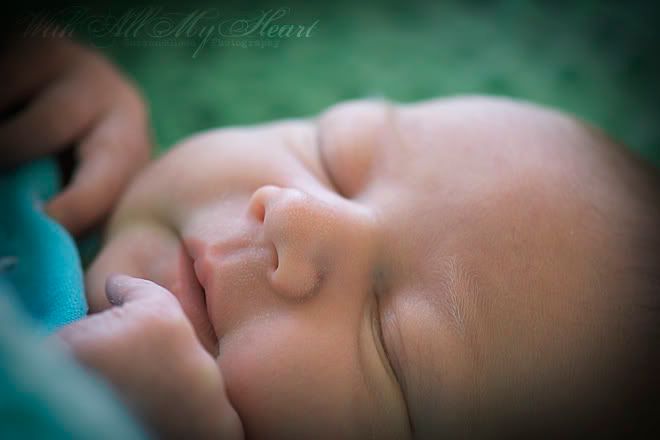 i love that you can see the little pores on his nose. he was only 4 days old here. Elias. a new cousin.
his hands and feet were all wrinkly. just starting to peel. his skin was still clear. oh those sweet first days!
i actually used an action to take away some of the redness in his face. then i added a PW quick edge burn to the edges. i tried some vintage and colourized actions. but i decided i liked colour the best.
i hope he stays this cooperative for me! i wasn't in love with photography when his older siblings were born, so i hope they don't mind that i monopolize him. although they are really good with letting me snap photos of them too. i really dislike "posed" shots. so much more fun to get them when they're relaxed and being themselves. they also cooperated very nicely for me that day too! perhaps it was nice for them to have some attention on themselves for a change. not that 4 days is a long time...but for kids it can seem like eternity.
the sun finally reappeared today. i actually have more layouts to share too. i was too busy soaking up the warm sunshine to stop and take a single photo. of layouts or otherwise. so sad! i also finished the layout for the August monthly class. yes, that is a record to be done so quickly.
i probably would have done another layout or project tonight...but i'm wiped! late night crop was last night, so i'm a little tired today. not to mention the sun really does pull some energy out too. my body is a little sore as well. i made a visit to the duck pond with a few neighbours. with all the rain this week, it flooded. it all descended quickly, but left a lot of mud behind. i did not stop to think that the wet grass, mud and my flip flops would not be such a great combination. without warning and without a witness - that i'm aware of - i found myself laying flat on the ground and looking at the clouds! i am a little sore now!! ironically nearly every one of our kids took a spill on their bike rides today. i guess i joined the ranks of the kids?! fortunately i did get to avoid any of the road rash that they were treated to. i guess you could say it was all in the name of 'growing up'? ha! anyway.....