OCTOBER!
seriously? seriously.
wow.
last week had me preparing for my daughters birthday.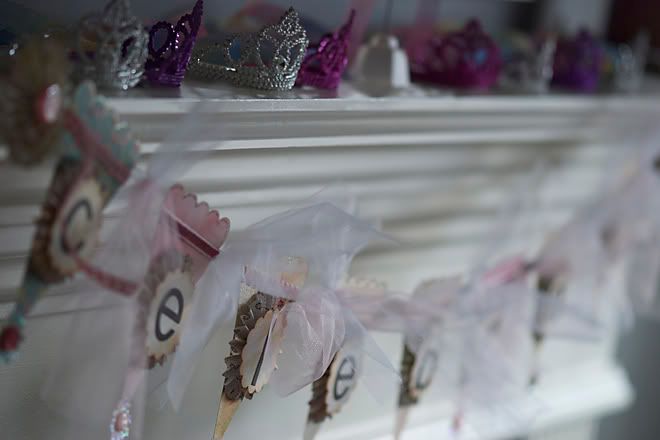 i have ALWAYS wanted to make a banner for a birthday. or any celebration.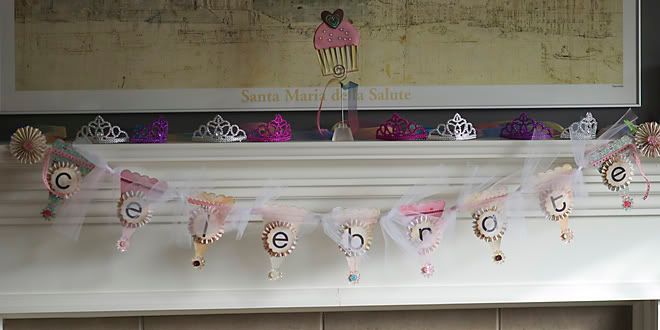 the pennants were cut with my Cricut, using the party hat in the Sweet Treats collection. then i simply ran it through my sewing machine to connect them. i left thread in between the pennants for spacing.
then i made lots of pinwheels. i was thinking that pinwheels also refers to the things that move when you blow them. also popular in scrapbook layouts. or perhaps there are 2 different names? these are just strips of paper, folded into a million and a half accordion folds. then you glue the 2 ends together using really good glue, or glue gun. the tricky part is to flatten the pinwheel against a paper backing and glue it in place. i'd include a tutorial...but too tired and lazy to look it up! but they are really simple and you can't mess it up. if you want to get good at them, then make at least 10 and you will be considered a pro. just trust me on this.
i punched out scallop circles and glued them on to my pennants. and added my letters!
decorated with some ribbon, glitter and glittery buttons. Kiara wants to hang it in her room now. success!!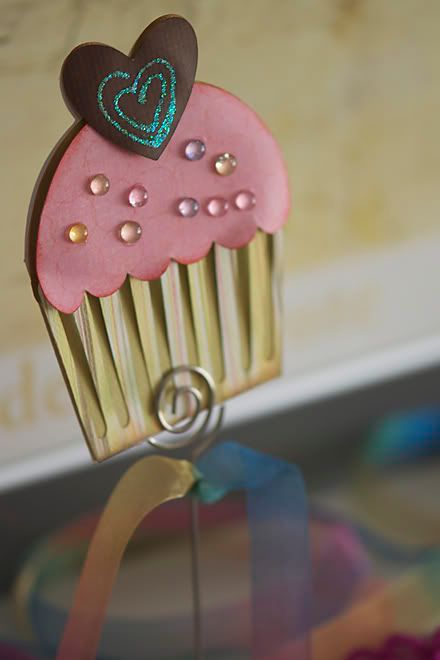 these were the invitations. also done with the Cricut and Sweet Treats cartridge. some stickles and dew drops completed the cards. i didn't take a photo of it, but i also cut out little dolls form Crate Paper that resembled the girls attending. the letter stickers from our last monthly kit at Urban were all glittery and perfect for writing the girls names.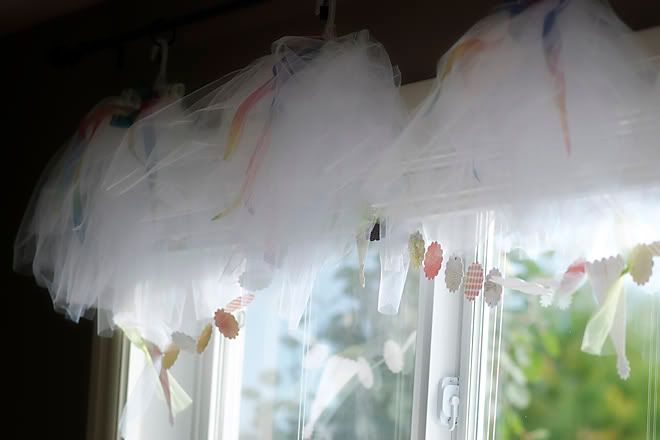 see. more banners. also going into Kiara's room.
we also made tutu's. i built the main white part and the girls helped to add some colour tulle of their choice.
it was a lot of work. but the girls were so sweet and very excited about everything. it made my day when one of Kiara's new friends commented that it was the best birthday ever! ha! i'm sure she says that at all the parties she attends, right?! it does make the work worth while when it is appreciated.
so we finished birthday stuff. all pink and girly.
then i had to finish my next class layout. with Thanksgiving as the theme. i'll show pictures next week. keep you waiting....
i also had to finish the Urban design team layout too. the word this month was "Beware".
i know i've said it before. but this kit was packed like crazy! full of choices. you HAVE to check out the other girls. i am so lucky to work with these talented and amazing women. Jody took it a step further and added letters and stickers from the previous two kits. they totally matched.
i got to use my mini-fastener!!! totally quick way to attach a banner to twine. and i only made ONE flower. shocker!!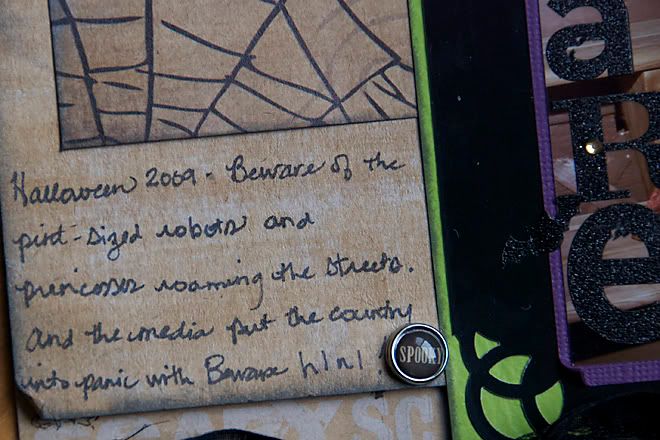 yes, do you remember last halloween? H1N1 had everyone concerned about what to do at halloween. i stayed home while Kristian took the kids out. there were a few homes that left a bowl of candy on their steps.
right after the kids got home, Aidan felt ill. not from candy. that week myself and Kiara had been hit with a 48 hour virus with a fever and plain awful. that night was the start of Aidans' turn with it. it didn't help that we had just had our flu vaccine a few days before that. which was a nightmare in itself. i should scrapbook that decision. i had forgotten about it until i thought about the night this photo was taken.
and guess what is around the corner?!!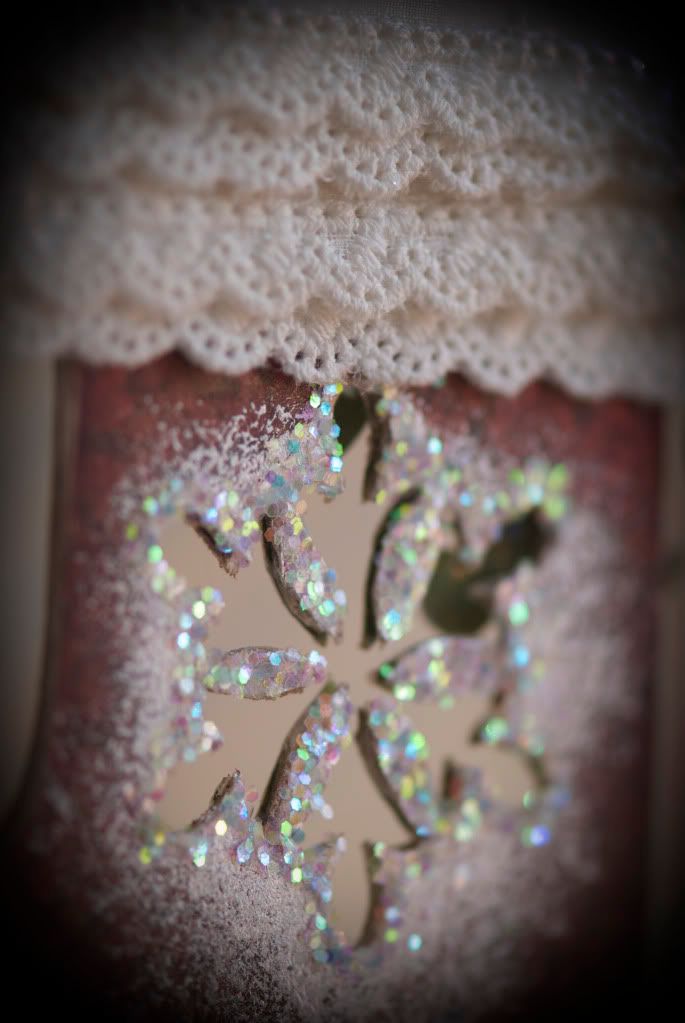 this is all i will leave you with. for now!
Urban Scrapbook is at the Creative Stitches show this weekend. they will have everything Christmas set up. the word 'beautiful' does not describe it.
oh! and how could i forget!!
Kiara has been at Urban every day this week. except today and yesterday. on Wednesday they brought in a special guest who taught two million techniques using Ranger Ink products and Tattered Angels. i managed to come out for a portion of it. Jen was amazing! it made you want to drop everything and just spend a few days playing with inks and glimmer and...
yes. it has been a busy week.
i have my second layout class tonight. more leaves than i can keep straight. seriously. i am so thrilled with the growth of the group i had last night. lots of the girls have really increased their confidence and are stepping out of the box. i can see that they are less frustrated if something gets glued on "wrong", and working around it when they can. instead of going for an exact copy of my layout, they are adding their own touches and switching things up a bit. with the 3 million leaves on their pages, it was good to be different!! i'm so proud of them. not that it is bad to go home with a replica of mine. i just like that they feel free to change things they want to see done differently. now just to convince them to post their projects so more people can cheer them on....
thanks for listening! apparently i had a lot to share when i haven't written in over a week.