i hinted that the next technique for my class will be SEWING. since the layout was not complete and the way my pages have developed lately....i knew that there was a possibility my "plan" would not work out! i even visited a quilting store to see if i could find some inspiration.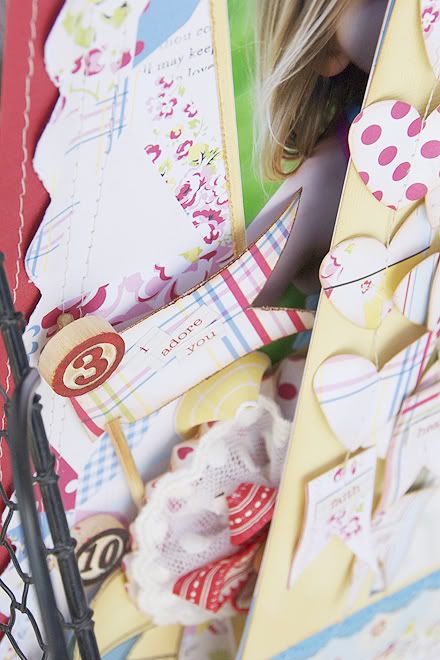 here is the sneak peak. you can see that there is sewing....so that idea/plan stuck! ha!! no worries. it is all straight stitching. even though it is a straight stitch, it does no way mean that the stitching itself needs to be exactly straight! mine sure isn't.
funny how we start out wanting the "perfect" layout....and then end with some crazy mistakes!
anyways, i really love the bright colours of this layout. the papers are from Girls' Paperie. one of the last products of this company. which makes me sad. the patterns, colours and embellishments are always a bit unique.
i'll share the details later this week.
the "plan" for the next class layout is already in the works. i'm so excited for this one too!!
seriously the papers and embellishments coming in lately have ALL been amazing. the girls signed up for the National Scrapbook weekend crop will not be lacking for being surrounded by inspiration.
i've also come across some posts that i hope to organize and link up to. they all have other uses for distress stains. that product is amazing. seriously.
if i bring cookies to the next class.....do you think the students will bring their finished April Year in Review layouts to share? hmmmmm..... the background papers turned out so unique, and i would love to see how the photos worked with the colours. these girls are totally amazing.