i love making gifts for people. but it is always hard to not have the photo at the same time! i guess i am just one of those people that finds inspiration in the photos while i complete a page.
i tried to keep it feminine, just because this teacher has a little daughter. i was thinking it might be nice to add some special photos in of her. the photo mat sizes are not standard either. however some of them could be used for journaling and a photo, i figured.
this is the first page upon opening. i had forgotten about these library pockets by Maya Road. hoarded, hidden and forgotten! ha!! it HAD to be added in this album. HAD to. the embossing and inking gave it more character, i think. also the card itself will be perfect for journaling...the pocket itself perfect for adding more photos or memorabilia.
i also added the packaging some My Minds' Eye ribbon was attached to. it just has school teacher all over it!
just because i am into details, i HAD to show you how this section looks when the little end flap is open and closed. or maybe because a lot of thought went into that little flap so that it worked on both sides. i think i will crinkle the flower a bit more. it is the new Kraft Glassine paper from Tim Holtz. it is my new favourite!!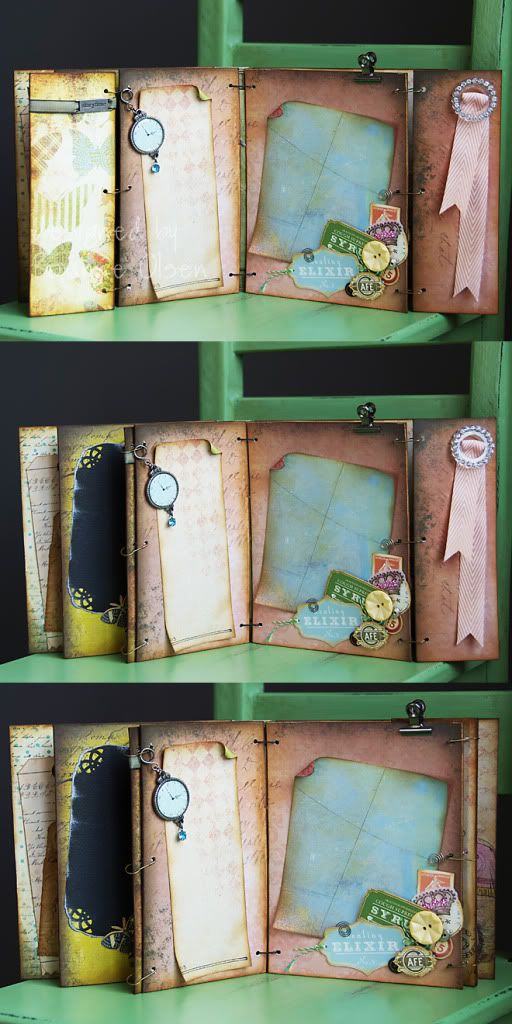 i'm thinking there needs to be another flower on this page. something light and airy. still thinking on that one. i love how the buckle and the pink stripe ribbon look! and the Girls' Paperie clock. the little mini buckle says 'storytime'. totally teacher!
i LOVED this patterned paper. maybe i added too much here? i thought the other page would look awesome with just some journaling. not a whole lot of places for adding thoughts, notes or memories in a mini like this. the mini-pen-nib is also from Tim Holtz and it says 'notes' on it. again, totally teacher.
so there you have it. i had a ton of fun making it and i hope that she enjoys it as much as i do.
now, bring on the weekend!!! {hoping and praying the weather stays nice all weekend - and then some! - would be nice for Aidan and Kristian to enjoy the sun as much as Kiara and i have this week}