August seems to have a theme this month...camping!
here is the next class layout i will be teaching at the end of August at Urban Scrapbook.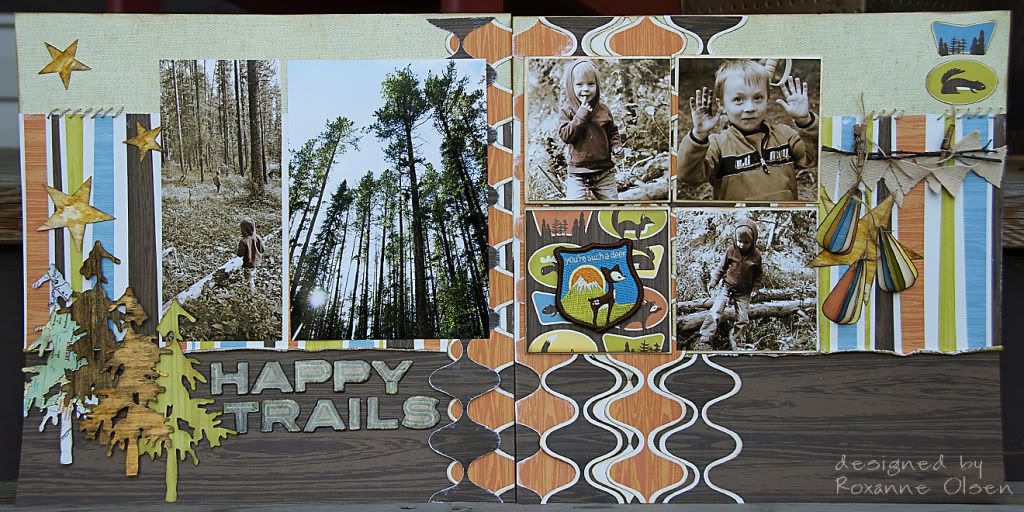 the patterned papers are from American Crafts "Campy Trails" line. i love that the papers work with anything to do with out of doors. fishing. hiking. even for those with kids who have photos of those "imaginary camping trips from the living room".
the technique this month centres around WOOD.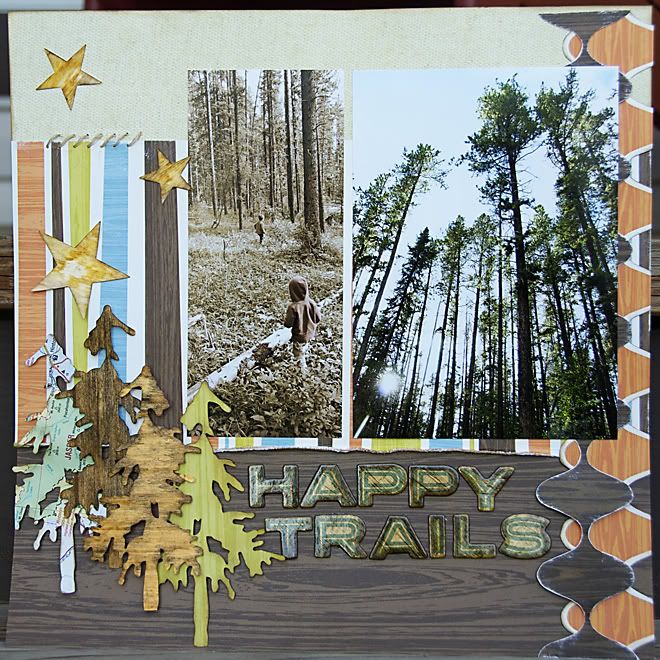 wood stars. wood grain papers. altered letters to look like they were sawed off the chopping block. wood like papers to use as trees. i even used a map to stand in as a tree!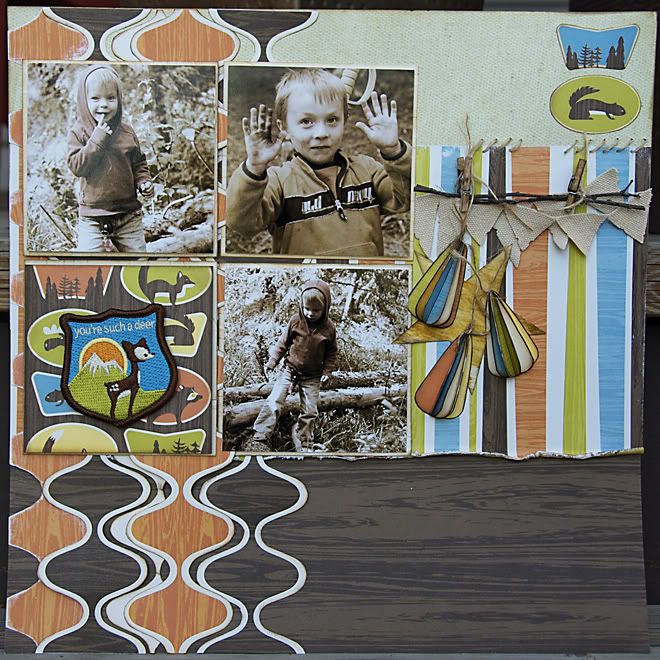 i also brought in some canvas to break up the wood look. a bit softer. reminds me of the old canvas tents form days gone by. remember those? the smell is what comes to my mind initially!
i found some little clothes' pins too. they are soooo cute!!
the deer patch is super neat. there are 6 styles in total. it is one of those embellishments that made me re-think a number of memorabilia i have not used on a layout! if this were to showcase a Cub Scout type of trip that involved getting a badge....how neat would it be to substitute the American Crafts version for the real deal?! actually the patch is just like the kind you would get at a fabric store to sew on something.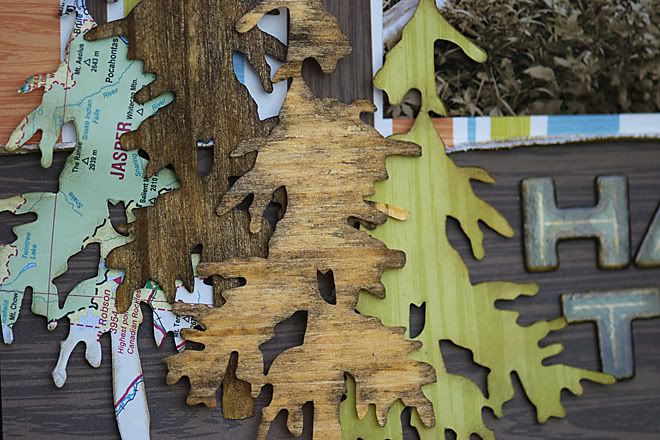 a close up of these trees. you are not going to believe the product i used to get this look on the wooden ones.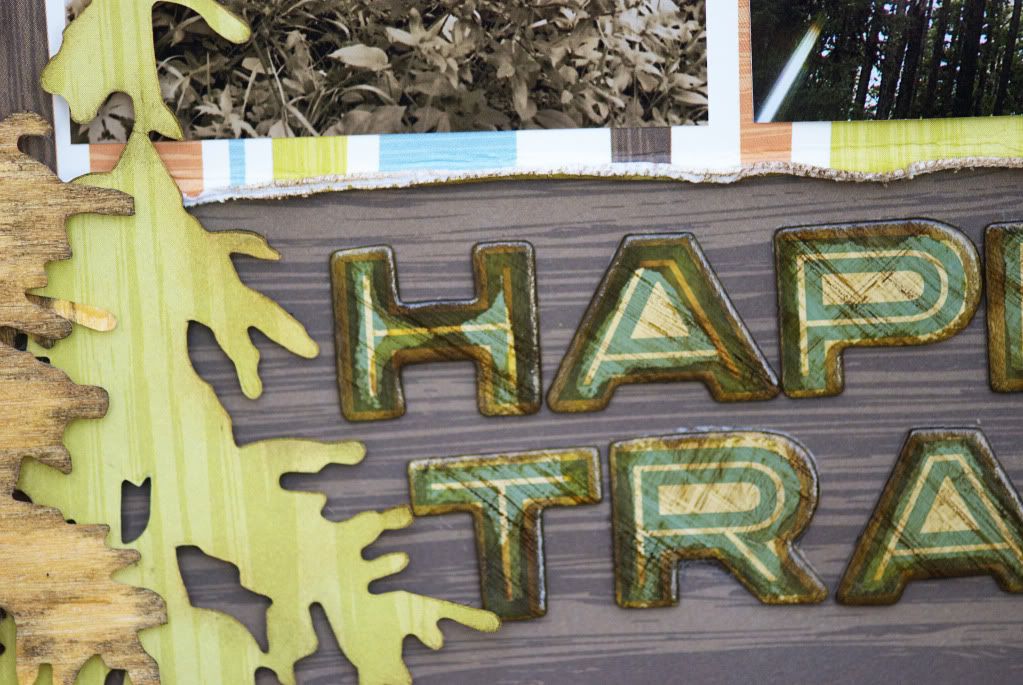 altered letters. they were just too crisp and neat for my taste! i had to change them up.
i had meant to use more of this canvas. in the end i love how this little piece gives the layout a life. those are real twigs too. on a WOOD layout, you HAVE to have some of the real deal!! i don't know what the handy things are supposed to be....but i loved how they turned out. i suppose they could be pine cones? or packs hanging from a tree?
we just returned from a very wet camping trip. we had rain like we have never had rain before. we joked that it was one of those holidays where it is the LAST camping holiday we will ever go on....or we will move on to a more secure type of shelter than a tent in the future! the title "A River Runs Through The Campsite" is what comes to my mind. i don't have a large number of campsite photos that i usually do from our camping holidays. just those where i took photos to document the crazy water we holidayed with! thankfully the rain only came at night and the sun shone hot and bright during the day. and our kids? every day they thanked us for the holiday and the fun they had each day. it was the first time we brought bikes. and the first in a long time where we joined up with friends. if it hadn't been for happy kids and good friends, we would have packed it in.
and now? it is mid-month. time to get prepared for my next class. plan the next layout for September. get the kids ready for school. enjoy the last little bit of summer holidays. i am sure i am not completely alone in wishing these last few weeks could drag on. it has been a good summer....just shot by far too quickly. some years i can't wait for fall and the colours it brings. not this year. one more month of summer weather please?!!