this was another great challenge:
create a tag using only white paper.
here is my version of that challenge...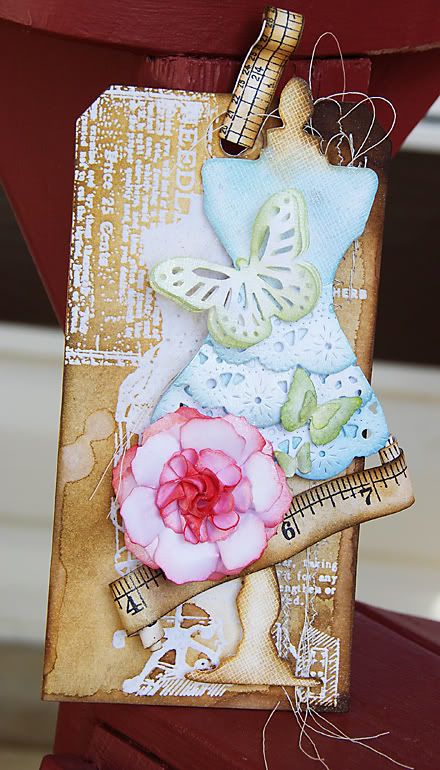 i used ink, embossing powder and perfect pearls to change the paper.
i stamped the background three times with embossing ink, then heat embossed it with clear powder.
then i used distress ink pads to colour the tag background. i kept them brown...antique linen, tea dye, vintage photo and then a bit of walnut stain.
i wanted it to be darker...so i got my water spritzer and distress stain (vintage photo) to darken the one corner and part of the edge.
since distress inks and stains react with water...i wanted to make it appear more aged. sprayed water into my palm with the mister...and dropped the water on my tag. none of the backgrounds looked alike! same techniques for each of them, same colours...but with the products i was using, you can't control or force them to behave the exact same way each time. i love that! it is one thing you just can't recreate digitally. (well, you could...it would just take longer!) once the inks were dry, i did wipe the embossed portion with a very slightly damp paper towel. i wanted the contrast of the white.
since the theme was sewing...i HAD to add stitching! i love the threads hanging off the ends.
for the dress form and ruler and flower....i used distress inks, keeping some of the white showing.
for the butterflies, i added some bundled sage ink to my non-stick mat. sprinkled a dab of perfect pearls in white beside it. then misted with water. i used my paintbrush to mix them together and painted it onto the butterflies.
i also used a popsicle stick to take some perfect pearls and add them to water in a mini mister. shook it up, then misted it over the entire tag. but you can't really see it that well in the photo.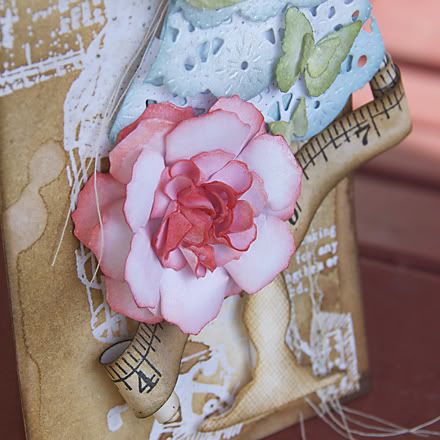 the flower was a bit different. for starters i followed a tutorial by
Natasha
. she has excellent tutorials and amazing flower designs. i inked each petal first, then misted with perfect pearls in white. when they were dry, i formed my flower. i used spun sugar. it is a very subtle pink. for the inside of it, i also used barn door on the wrong side of the petals. when it was done i felt it needed more contrast, so i lightly edged the entire flower in the barn door colour.
i had actually coloured white lace to match the tag. then i saw an unused part of paper sitting on my desk...and had an idea. i rolled up the remainder of the measurement stamped section, inked and adhered it to the top of the tag. the lace was pretty, but i think this fit the challenge better.
one of the many lessons i have learned lately is to stamp more than just one image. whether it is the same stamp, or a different one. and don't be centred and neat about it! layer them. stamp off the page. don't worry about "missing" any part of it. i have found that i enjoyed the results of doing so.
since ink is one of the themes on this post...
.Tim Holtz posted a great video
on his blog last week explaining the difference between REINKERS, DISTRESS INK PADS and DISTRESS STAINS. it may have just been a teaching video...but being Tim, he still managed to inspire creativity. after it was done i found myself looking forward to winter and his Christmas Tags. then i pinched myself and told me to appreciate today....and the lack of snow and hints of winter!! ha! although i am tempted to take a photo of the still-melting-pile-of-snow from the snow storage facility that is STILL melting and send it off to Tim and Mario. they will not believe it. yes, i am certain it will not melt until next summer. only in Canada. i am debating though. i want him to come back to Edmonton....what if i mess up our opportunity to get him here by scaring him?!! i simply cannot have that hanging over my head...