some Indian Summer....so it seems!
i cannot believe how beautiful the temperatures are. and that we have the AC running in September!
no complaints here. autumn can take as long as it wants.
the challenge for the Urban Scrapbook design team this month was to do fussy cutting. we were given the stunning papers by Bo Bunny to use. it was tough to decide which papers to cut up! there was no doubt that the pages would be amazing when they were done. check out the gallery!
these photos are from last autumn in Jasper. Kris and i had a weekend away from the kids (or the kids had a weekend away from us....depends on the perspective!). the fall colours in Jasper were perfect. the photos turned out so nice as well. good enough that we are thinking it might be fun to go back this fall. however the kids are asking to join us.
EVERYTHING was hand cut. no die cutting this time. yes, my fingers were a bit sore afterward. honestly, the tool you use makes a difference. i was reminded - again - that i need to buy some replacement blades for my x-acto knife. a sharp blade really does make a difference. i also used my Tim Holtz Tonic Studios scissors. they are sharp right to the tip. (as part of my finger learned very quickly when i first bought them!) on a totally unrelated note to fussy cutting....those scissors are amazing on anything super sticky. like sookwang or super tape. they are teflon coated. i do find that stickiness does build up after a time...they get used a lot!! however a wipe with a solution of water and dish detergent does the trick.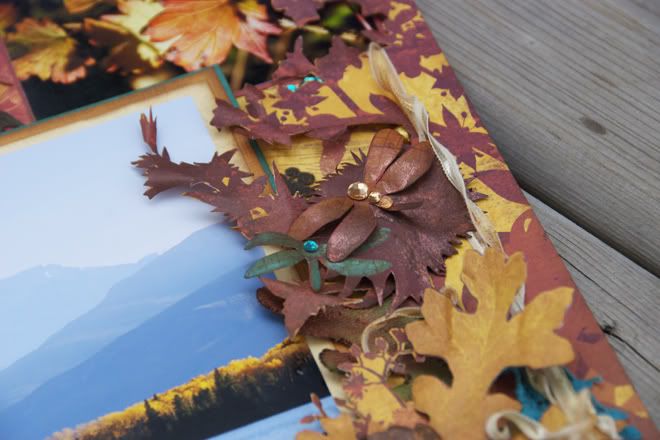 then i added ink. and perfect pearls. and luminarte H20 paints. i love how the subtle pearls shimmer on the darker paper.
one of the elements in the kit are these velvet rub-ons by Prima. they add a neat texture to the page. the detail they have in the design is amazing too. i cut a few apart as well.
another part of the challenge was to create a tag or card. well. i still have the paper sitting on my desk waiting for me. i think a card would be fun. i've spent many hours each day this week working on other things not related to scrapbooking. things that i never dreamed would take so long! sometimes priorities are not so fun. one of the projects is complete and the other just has a few hours left. the things we do for our kids!