love the new Bo Bunny!
our pages are getting more difficult....up to 4 photos. i am trembling as next month approaches and we are up to 5. that nervous excitement that lasts until you start setting up your layout!
Jan threw in another challenge this month too. use some corrugated cardboard.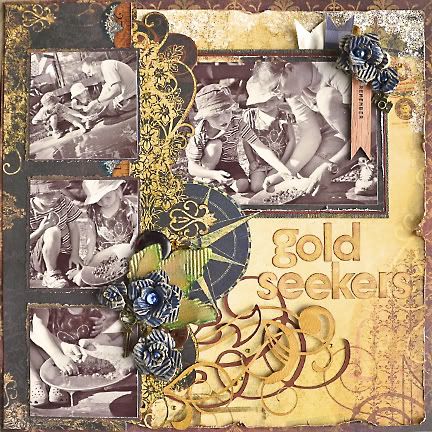 looking through my photos....and comparing them to the paper....i decided that these old photos taken at the Capital Ex a few years ago were the perfect arrangement. i have a lot of photos from a few years ago that are still waiting to be scrapped. i get very stressed out if i try to keep a chronological scrapbook. since i scrapbook to ease life stress, then i avoid adding additional unnecessary stress!
we thought it would be fun to do some gold panning with them. Kris got dirty and i took photos. the kids were pretty young and we're certain that a few handfuls of the "dirt" containing little gold nuggets were thrown into the river by a certain confused toddler! the prizes were not paid in money, and we tried to convince young Aidan that a vial with the gold "fleck" would be worth the trade. despite our efforts to convince him, he saw the dollar store variety of toys and wanted to trade in that direction.
the adventure of the search for gold was the fun part.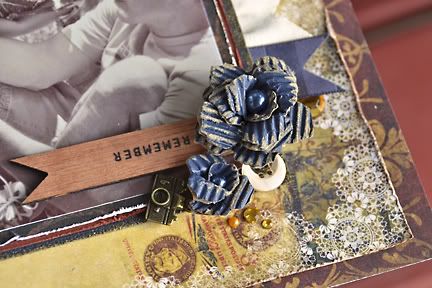 it is difficult to see, but i edged my photo mats with some "enchanted gold" embossing powders. i rubbed the edges of the paper along my versa mark ink pad, then sprinkled on the powder. i also tapped off any extra powders where i felt it went too thick. i like how they are not visible at first. kind of like panning for gold at the Capital Ex! some of the pearls and gems were gold coloured, so those were perfect to add on around the layout.
i cut the cardboard using my Tattered Pinecone die. sanded the edges and rolled them up! i also trimmed some of them smaller to control the size of my finished rose.
on some scraps, i ripped them to look like leaves. tore off some of the paper covering the corrugated part, then inked in green.
i found some fabulous cut files of flourished that matched the ones on the patterned papers.
soon, i will share my photos of my next Year In Review class.
in the meantime, i've been busy finishing the Creative Chemistry 101 class by Tim Holtz. sooooo worth every penny. the good news is that it is never too late to sign up. you can't participate in the forums and chat with Tim. but! you can still watch the videos and read the information in the forums.