this is the last of those hexagons. for a little while!
i embossed the fronts of these cards with a honeycomb embossing folder from Tim Holtz/Sizzix. i actually made one more and didn't take a photo of it before i gave it away. i used the embossing diffuser plates and only embossed the honeycomb on the outer edge of my card. those plates are amazing!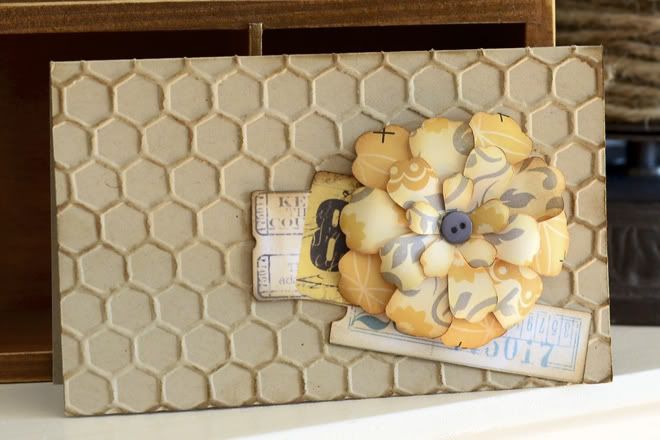 i did add some ink on the edges for interest. i also purchased a print and cut file from Silhouette for the ticket collage. the flower is a reject from a layout. if i really like an embellishment from a layout that didn't work with the layout, then i set it aside for another possible project. this flower was another design cut with my Cameo...one of the free designs that comes with the software. i love it when "free" equals "nice".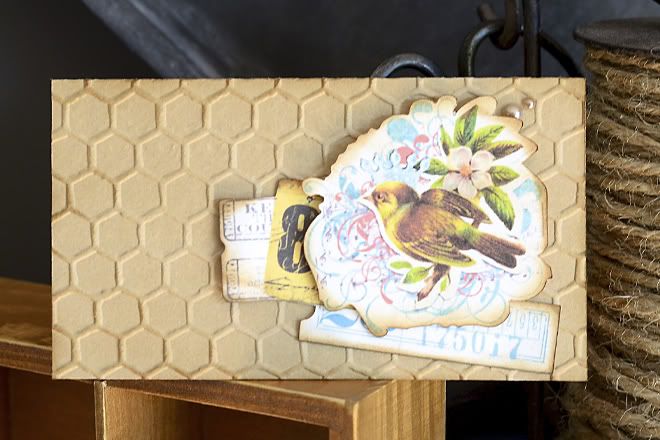 this time i used two print and cut files from Silhouette. i was 100% skeptical of the print and cut quality....until i used the feature. it is totally amazing.
i have only used my bulk cardstock for my printing of these embellishments. i have some matte presentation paper that i want to test. i think it will bring out richer colours in the files.
i have not tried it yet, but i think it would be fun to send a photo to my Silhouette software, create a shape to cut from it....then follow the regular print and cut process. how about cutting out your photo in the shape of a hexagon?!