i have to admit that i am quite sad that my October classes are both done. seriously. i loved putting that layout together. but it was even more fun teaching it!
i had a lot of fun designing this next layout too. it took me a while. but the process was fun!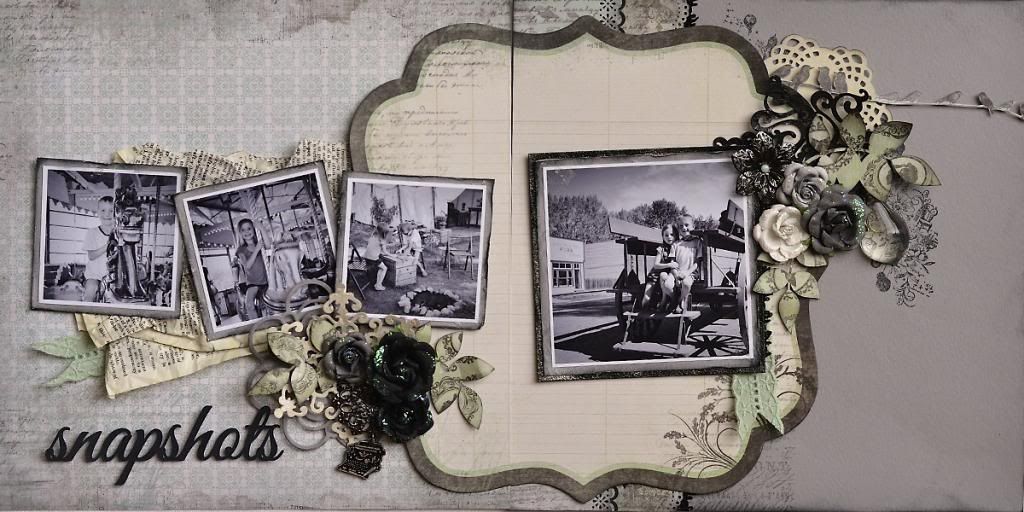 i am hoping that the colours and style of this layout will allow my students many choices when it comes to picking their own photos. they could go vintage with some oldies from the good ol' days. or they could bring in some colour photos that work well with that lovely mint green. for myself i used photos taken this summer from our personal happiest place on earth - Fort Edmonton Park!! random shots that remind me of the fun trips we had as we pretended to be citizens of older days.
the dictionary paper was a last add-on...but now i can't imagine the layout without it. funny how it goes sometimes.
their are FOUR different styles of doilies on this layout.
one of the techniques involves a new twist with heat embossing. so fun!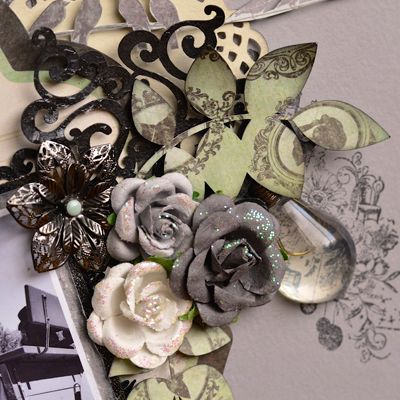 another technique is stamping on the layout. the third involves some crackle glue. and i used one of the Prima lightbulbs...with a bit of a twist.
for the first time this year i managed to find a CARD sketch that worked nicely for a layout.
it is from the Color Room. and you can find it
here
. they layout that month was very similar to the card sketch. so maybe it isn't that much of a miracle?!
i think i might just challenge myself to actually make a card using this sketch. i did follow it rather closely for the layout. changing the size of one of the squares and adding a title.
one consistent comment i've heard is the love of the colours of the papers. aren't they amazing!! they are from We Are Memory Keepers. i'm guessing they have a new designer because a few of their lines are totally along the more artsy/vintage style. (as opposed to their cutesy graphic designs they are known for). the name of the line is Antique Chic...and you HAVE to see what they have named their papers. Ethel, Gertrude, Olive, Eleanor, etc.
i'm about to start designing the December layout. we meet early for this class...due to Christmas. (December 13 and 15) if you want to know in advance. i'm already thinking about what to use for the bonus class. all the while in a bit of disbelief that the year has almost ended. it really went by quickly.
NOTE:
a few of my students have missed classes and have kits that need to be assembled! we tried this once before, but a "certain teacher-person had to get herself sent to the hospital...so now we are rescheduling again. we are going to have ourselves a private little crop. you can bring your unfinished work and i will be there to help you with the techniques...or perhaps bring along some supplies that have prevented you from finishing it. maybe you have your layouts done but just want to hang out with other ladies from the class one more day that month. everyone from my class is welcome! if you are interested book November 24 on your calendar and call the store to let us know you are coming. it will be a fun afternoon/evening.