this month the
Urban Design kit
was based on the
Honky Tonk
collection by
Cosmo Cricket
. even though i'm a farm girl....i was a bit nervous when i saw the papers. fortunately i still have quite the assortment of photos that have been waiting to be scrapbooked....and i found the perfect ones! it just goes to prove that sometimes you have to wait until the right products come along for some of those photos. i think it was worth the wait.
last summer they used some of their tokens towards a pony/horse ride. it was the highlight of their day!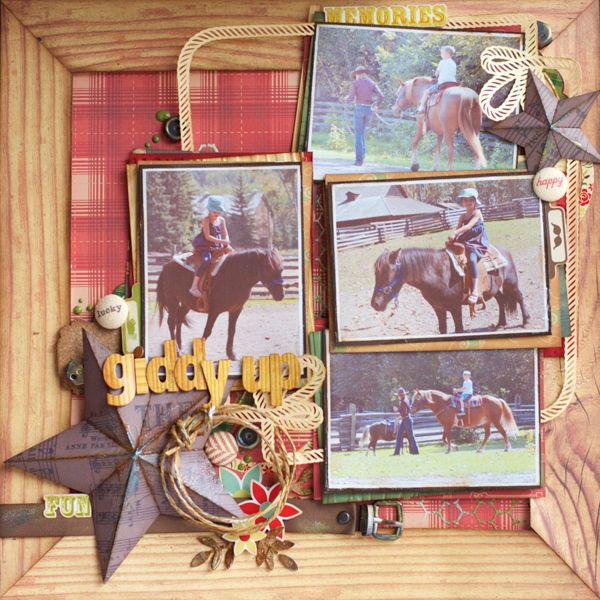 my design actually started with the 3D star die cut by Tim Holtz. i thought it could be western...and not just Christmas. then i made the bundle of rope. at that point i went on a search in the Silhouette store to find other items that had rope or western themes. i settled on using the
Looped Rope Border
.
i thought it would be fun to make the wooden frame using the Cowboy Song paper. it isn't a technique that i've done before, so i was a bit worried how it would turn out.
the paper behind my photos needed something, so i embossed them in my wood-grain texture folder.
i was also in the mood to try out a chicken wire stencil and some of the new modeling cream by Viva. i mixed the cream with some Inka Gold and that worked well. they both dried quite quickly too. of course, most of it is hidden by the photos. funny how that has been happening to me a lot lately!
then things got a little crazy! i started adding more mediums until i had to just walk away. lol!! i added Rock Candy to the large 3D star. then i added some more Inka Gold Metallic Rub...on the crackle, on the paper, the rope, the buckle, the ribbon, the metal embellishments, the rope die cut, the cork...
not that i have shown them on my blog before...but i am loving the new Enamel Dots that are trendy right now. a happy discovery for me has been the Viva Paper Pens. they make awesome enamel dots. so i used my Light Moss ink to add some to the layout at the end.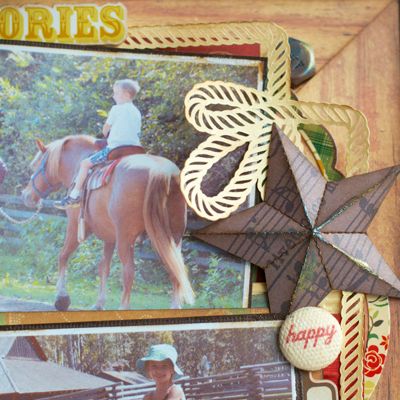 the package of cardstock stickers has letters, flowers and a variety of shapes to choose from. i layered as many as i could throughout the layout. fun stuff!!
check out the other projects from the
Design Team here
. i love how different they all look. Pat made some cards using the kit too. there is no shortage of inspiration. again! i'm so lucky to be surrounded by so many talented scrapbookers.