what to do when time is short but the scrapbooking mom really wants to make something meaningful for their child's teacher...
my most favourite gifts from my students always involved something they had personally written. i decided that that was the best solution. while i figured out the best way to present their written thanks, i printed out some sheets with a few sentence starters.
Thank you for being my teacher....
You are extra special because....
My favourite memory is....
You taught me....
while they wrote, i brainstormed.
i found a few easy to cut mini-albums at the Silhouette store. Kiara liked them. Aidan had other ideas, like an apple shaped album.
which sent me to Google Images....which brought me to
this project by Amy Heller
....and Aidan then totally approved. Kiara changed her mind once she saw Aidan's album come to life.
i started by searching for an apple shape. imported the image into my Silhouette Cameo software and then traced it. i adjusted the shape slightly using the Offset and transform tools.
i was still working out how to add their writing.
then i remembered the apple shape i had purchased earlier in the year
. i thought it would be cute to have their writing in a heart shape, centred inside the apple shape. i was thrilled with both of the kids agreed!
here are a few pages from Kiara's gift: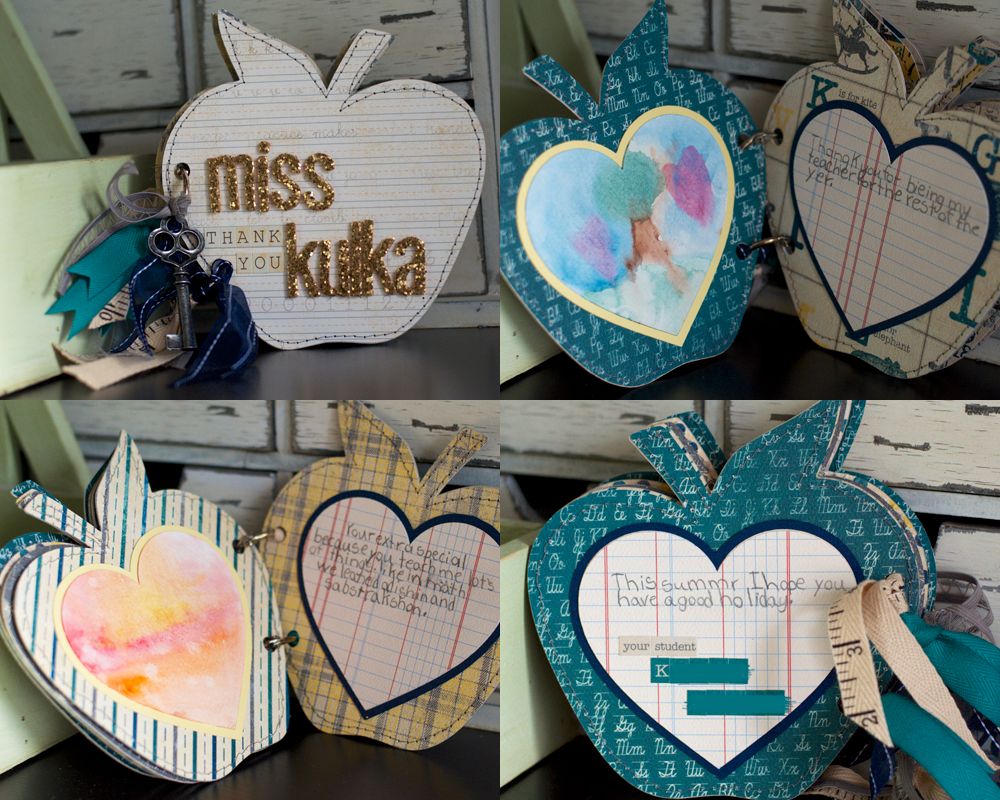 for each page i cut out the apple shape from the Silhouette chipboard and 2 different pattern papers. the handy part with making my own design on the Cameo was that i could include the holes for the binder rings. after the paper and chipboard was adhered together, i stitched the edge with my sewing machine.
Kiara is artistic and i convinced her to make some pictures to include in her album. i think she is a little art journaler at heart! she just loves to play with art supplies and create textures.
we kept the pages limited to her writing and pictures.
the letters were her choice. i love how they look! i also love that the "heart" of the design is totally her and personal.