i think it was last fall when one of my friends' suggested we organize a summer art camp for kids at our church. as the months past the details were added. before winter was over she had secured teachers for various art lessons. the kids will create some sculptures using Sculpy Clay. one of the classes will teach them a bit about painting techniques. if you hadn't guessed it, mine is paper.
my kids did not have a choice on attending. since i am there, so are they! but they are excited. i'm thrilled to be a part of a high quality program. if we are successful this summer we hope to plan a new art camp each summer. which will be great as we can build on activities! i am so pleased that Urban Scrapbook has been a huge supporter of this camp as well.
we were told that we would be lucky if we got 24 campers signed up. since the 4 instructors and needed assistants would probably have at least 12 kids....we expected 36. however we also decided that we better decide on a maximum number and deadline for registration to make it less stressful for us to prepare. at least 2 weeks before our final deadline we reached our maximum number of SIXTY campers. wow!!
it is four half days. each station will only be about 40 minutes. the kids will rotate through 4 creative stations each morning. i'm not known for making "simple" projects. this was a major challenge for me!!
i turned to Pinterest, magazines and kids' toys for help. for this project it was the Silhouette store that helped me!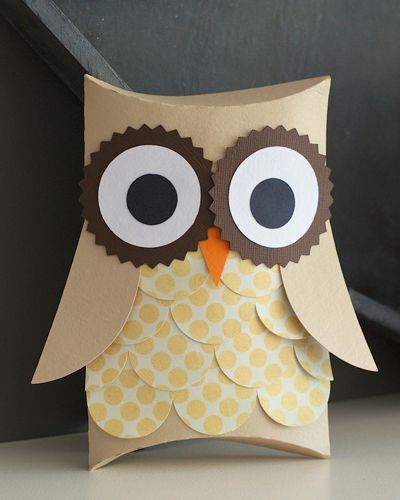 i had downloaded
this project
a long time ago, thinking my kids would enjoy making it.
this is the design by Lori Whitlock:
i made a tiny mock up. it was super cute. however i pictured the kids struggling to get it together. for the second sample, i kept everything at the size Lori designed. it was twice as big as i had expected. but i think it will be very easy for the kids to assemble now. "very easy" could also be understood as "reasonable challenge". ha!!
i was so proud of the little bird. i spent one entire day cutting out enough materials for 52 owls. stopping only when i realized i had not counted out enough paper for the next 8 owls.
the next morning i should my nearly 9 year old son my creation. his response?
"cute. can the boys make rockets or something?"
ugh.
at which point i realized that we only had 8 boys registered....and i could come up with an alternative for the remaining 8 shapes to cut.
an hour later i decided that it would be possible to use the same pattern to create an
Angry Bird
......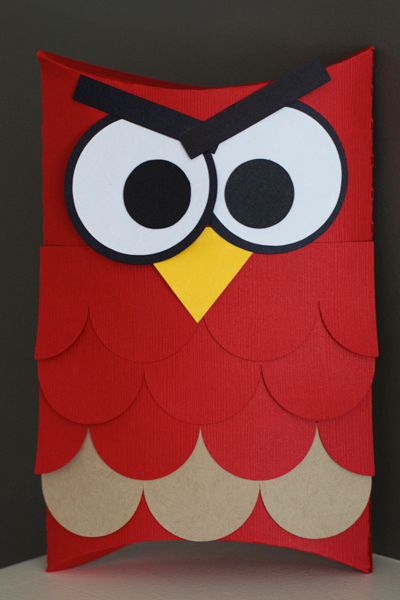 i altered the beak. did not cut the zig-zig background on the eyes. added black rectangles for the eyebrows.
thankfully the boy was totally thrilled and stopped asking for other projects instead! phew!!
looking at photos of the other Angry Bird Characters i decided to make a few more....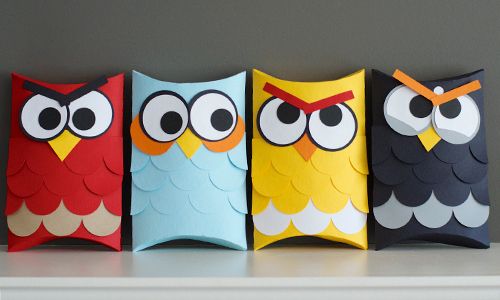 this got some smiles from him too.
the "plan" is for each class of 15 kids to create a unique owl of their own. in this case, there will be 13 versions of the cutesy owls and 4 versions of the Angry "Owls" for options.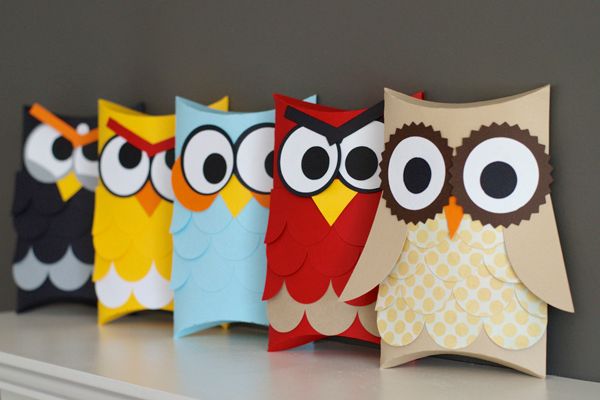 i thought i would share this design with you. sometimes just a change in colour is all you need to make a simple design unique.
i am hoping that the value in this project will be for the kids to be inspired to make something like this for birthday favours. or a packaging for a gift card or just candy.