.... a little booklet for a post it note pad and holder for your pen.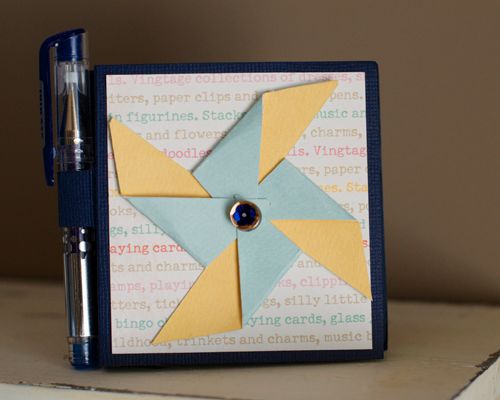 i was once again reminded of how thankful i am for double-sided pattern paper!
the theme of the camp is Creation. we are created by God. we are created totally unique from one another.
it did not seem appropriate for all of the projects to look fully identical. from my past experience working with elementary age kids, they do have a desire to create unique projects. if i am wrong, then i will definitely be prepared next year!!
i had to really dig deep to think about some projects that would be appealing to kids...easy to make....and not to crazy time-consuming to prepare.
my own kids love to write. notes. letters. doodle. you name it!
the photo does not show it, but there is a post it note pad inside. the visible part is the front cover.
i wanted to show how they can create some unique embellishments using just simple shapes. the first technique they will learn is to create a pinwheel. we could have done a large size one. but i think this will be a great opener for them to create a larger one using the scrap paper if they wish.
the second technique will be to create the little book that holds the post-it pad.
the third technique will lead into another day....when they make a pop-up card! just 2 quick cuts with their scissors and they have a holder for the pen to accompany the paper.
there are also a few bookmark project materials. for those that tend to finish early and want more activities.
also i brought all of my scraps and have set up a great area where they can grab various papers as they need them. the room has one of those IKEA bookcases that allowed me to have an entire colour of cardstock and patterned paper in one cubbie. organized paper makes me soooo happy! haha!!