have you seen the
Design Team
layouts at
Urban Scrapbook
this month?
gorgeous!! it always has amazed me to see the variety of designs that come about from the monthly kits. it is an honour to be a part of this team.
so....sometimes a layout just needs a sketch!
one of my favourite places to find a sketch is at
Creative Scrappers
. it was very quiet over there during the spring and summer....but now they are posting sketches on a regular basis again. i love the variety of techniques! and one of our former Urban Girls -
Jody Rogers
- is back as a designer again.
these papers were so pretty. i wanted to try something different. as soon as i saw this sketch i decided that it would do the trick. as well, the interpretation of the design team was super inspiring.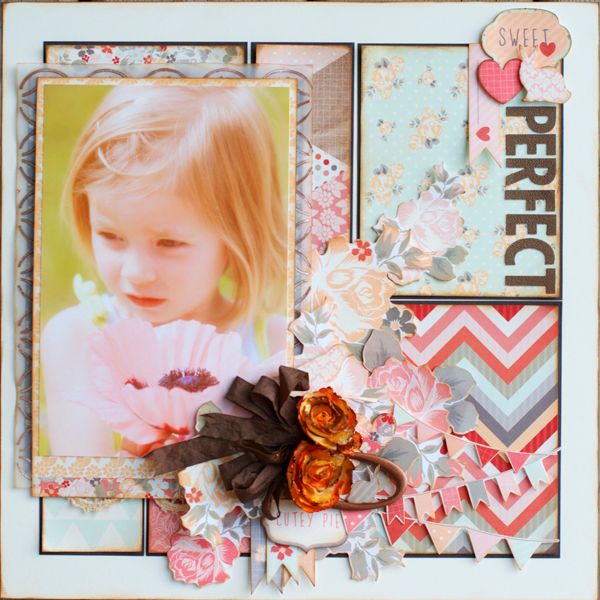 i loved that the paper background looked a lot like an old quilt. i love the old quilts that are rectangular like this. my weakness! ha!! the photo is from a few years ago. the Oriental Poppy has not bloomed since. i'm pretty sure it does not like the spot i have it in. hopefully we can remedy that next summer. it is amazing to see the large size of the flower against the small size of my daughter.
i altered the vellum using pearlized modeling cream and a stencil. it is difficult to see it, but it's the frame around the photo. i coloured the cream with some ink. if you do try this....remember that vellum likes to curl when it is wet! just a bit of a challenge to keep it flat while it dries. it also does not like heat, so you can't really speed up the process much. as with most challenges....totally worth it!!
the flowers picked up the pink and yellows in the papers. i added some Viva glazes....and cannot remember which colour now! to darken the petals to be a closer match to the ribbon. a little bit of distress glitter on the tips of the petals finished them off.
my girl loves bunnies too. i loved the little bunny die cuts and made sure i used them all here.
well that bunny-loving, big-flower-holding little girl is now a big girl of seven years old .....and a grade two student. she partied this weekend, like any girl turning seven can do and is one tired little pumpkin today!! i'm hopeful that an extra long sleep tonight will rejuvenate her body and soul so that she is ready for the rest of the week.