i was given these beautiful and fall inspiring papers to work with. i created the layout with a bit of bittersweetness. i love fall. i love the colours that can only be seen in fall. i love what fall represents....new school year, new clothes.... BUT i was feeling like i still needed some more of summer!
very mature of me. ha!
to add to my maturity, i remembered with sadness that we missed the lovely fall colours last year. September was abnormally warm and bright and damp. the colours of the leaves kept their green longer than usual. then October came. if my memory is correct, it was 25 degrees Celsius at the beginning of the week, and then dipped to -10 degrees Celsius at the end of the week, with snow!? it was sudden. too sudden for the leaves.
i have already noticed a few leaves turning a lovely orange and gold. even some reds. i am hopeful that we will be rewarded with a colourful fall to admire this year.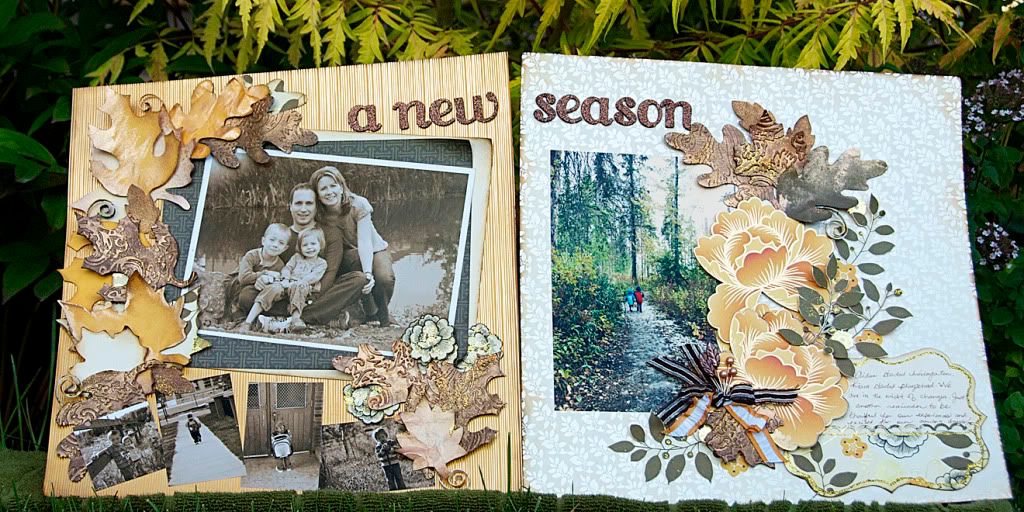 because this paper would be INCREDIBLE with some lovely fall colour photos.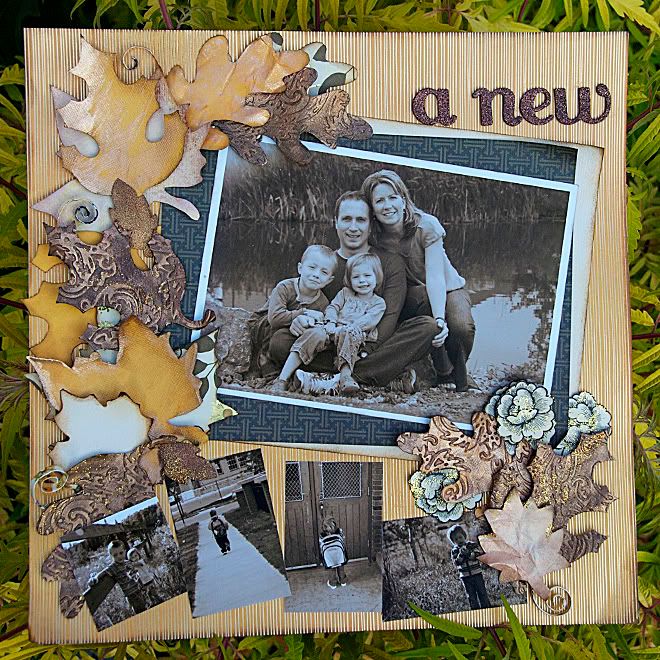 there is a gold shimmer to the papers. and we will add more with some lovely copper and red twinkling H2O paints.
yup, lots of detail cutting. i LOVE cutting paper. almost as much as i love colouring. so peaceful and relaxing....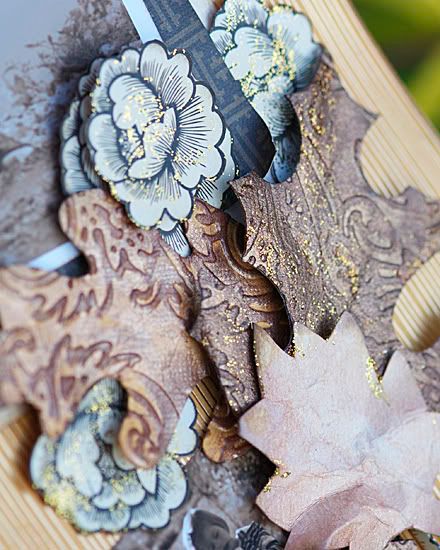 Pat and many of the other girls have been raving about the Cuttlebug. this layout uses that machine. seriously amazing what you can do with it! if i had to choose between the Cuttlebug and the Cricut....i would have to say the Cuttlebug. i had no idea!
lots of patterned paper. twinkling paint. add some grungepaper. cardboard. and some magic.
this will be a fun class to teach!!
the store just revealed some amazing news. Urban Scrapbook is moving around the corner. i got to take a tour of the new digs...still being renovated for us. i'm a little sad that the store, as i've known it, will look different. however it will be even more amazing.
if you are a Tim Holtz fan. or love to see what Jennifer McGuire is up to....then i hope you have signed up to take the newest classes Urban Scrapbook is offering. THREE ink classes. call in sick and take all three on the same day. ha!! i have no idea how anyone will ever be able to decide which one to take. really.
i know i still hoped to post some more close-up photos of the August class layout....i'll be sure to still do that! you can
still check out the original photos in this post
. hopefully life settles down a bit and i can spend some time at the computer getting that done. i had no idea September was going to be this crazy. according to the calendar, life should slow down soon. i really hope it is right!! i had hoped to spend all my spare time scrapbooking...not running errand after errand.